Judiciary, Executive should thrash out their differences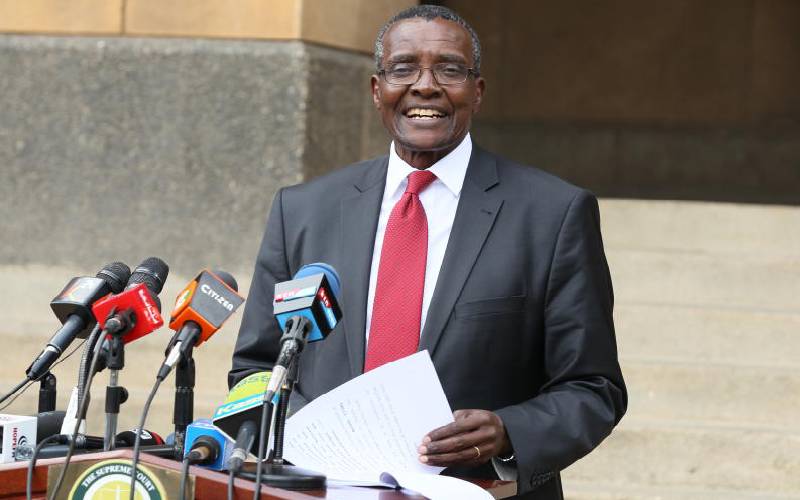 Chief Justice David Maraga is not a happy man. The Judiciary, it would seem, is under siege. He has expressed his frustration as the Judiciary slowly grinds to a halt, and with it, the administration of justice because of financial constraints occasioned by a Sh3 billion cut in its 2019/2020 budgetary allocation.
Indeed, judiciary's request for Sh31.2 billion was scaled down to Sh14.5 billion, from which the Treasury bit off a further Sh3 billion. However, in a case filed by the Law Society of Kenya against the National Treasury, Justice Makau Mutua ordered the Treasury not to effect the budget cut.
Maraga has warned Kenyans of tough times ahead. Besides the backlog of cases that has existed for years, he warns there will be additional delays in the hearing of cases; that there will be no mobile courts and the Court of Appeal circuits will be put on hold.
Plans for automation and digitisation of judiciary services will be suspended. Last week, 15,000 cases were suspended as the cash crunch hit harder and a number of courts were forced to close. Maraga claimed yesterday that the fight against corruption and the Judiciary's resolve to play a critical role in bringing the vice to an end had resulted in the infamous corruption cartels training their guns on the Judiciary to cripple its operations. If true, this claim shows how powerful corruption cartels have become and that the war against graft remains a tall order.
The CJ further claimed he is aware of a plot by some Cabinet Secretaries, Principal Secretaries and senior government officials to remove him from office. These are shocking allegations. But, sadly, as the Judiciary, the Executive and even cartels engage in shadow boxing, it is the citizens who will suffer the most.
The bad blood between the Judiciary and the Executive shouldn't be there in the first place. The Executive, the Legislature and the Judiciary; the three arms of government, must play complementary roles to ensure good governance. They are supposed to hold each other to account as a guarantee for fairness. They exist for the good of citizens, not themselves.
For impeding the administration of justice - the foundation on which civilised society stands - the grandstanding between the Executive and Judiciary must be brought to an end. There ought to be a round-table meeting between the three arms of government to end this animosity. When they undermine each other, they hurt the very same people whose interests they swore to protect.