Use dialogue, not threats to resolve counties revenue allocation dispute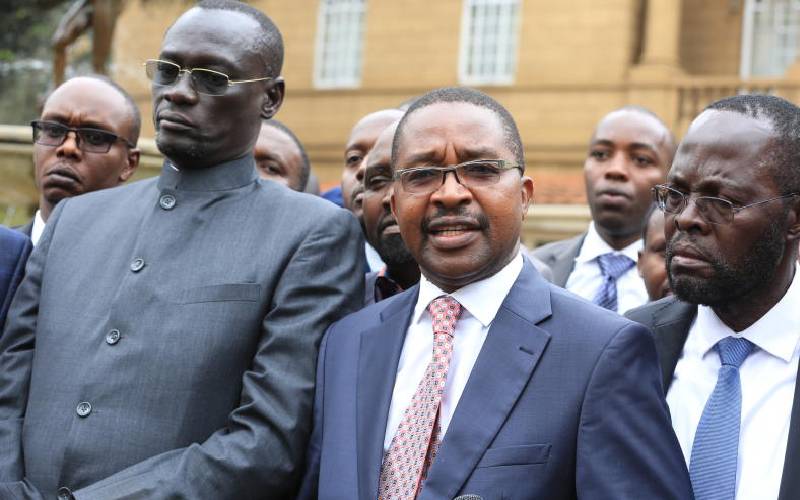 President Uhuru Kenyatta's Thursday outburst has put a damper on the push for a negotiated settlement to the revenue sharing standoff. The President's speech unsettled senators and governors even further, with Council of Governors chairman Wycliffe Oparanya saying they won't give in.
Speaking in Gatanga, the President told county governments to work with what's there. "We are not a money printing entity," he declared, challenging governors to cut their salaries to the meet their shortfalls and show what they had achieved with previous allocations.
Riled by the finality of the President's no-holds-barred response, governors who met in Nakuru yesterday claimed the President had usurped the powers of the Judiciary. They had moved to court to seek legal guidance on 2019 Division of Revenue Bill.
The National Assembly insists counties should be given Sh316 billion up from Sh310 billion whereas the Senate proposes Sh327 billion.
The Senate's figures are a compromise from Sh335 billion the Commission of Revenue Allocation had suggested. Just this week, the Senate passed its version of the revenue Bill, allocating Sh335 billion as the equitable share to counties. The standoff saw the two Houses clash, with National Assembly Majority Leader Aden Duale blaming CRA for giving recommendations from non-realisable revenues and promising counties unrealistic figures.
Several questions arise: Could the national government be fighting hard to 'take back' already devolved functions? And why would the 47 counties ask for more money when most of them have nothing to show for their previous hefty allocations? Why would more money be allocated when nearly half is lost to official corruption? The incessant blame game is unhelpful.
When the national government and counties work at cross-purpose as has been the case since 2013, it's the taxpayers who suffer.
We urge the President, governors and the leadership of the Senate and National Assembly to sort out these differences cordially and with the urgency it deserves. Granted, the law has structures that allow these arms to co-exist. Political bickering, duplicity of roles, funding delays and poor intergovernmental relations are grave threats which if not checked, could sink the devolution ship.