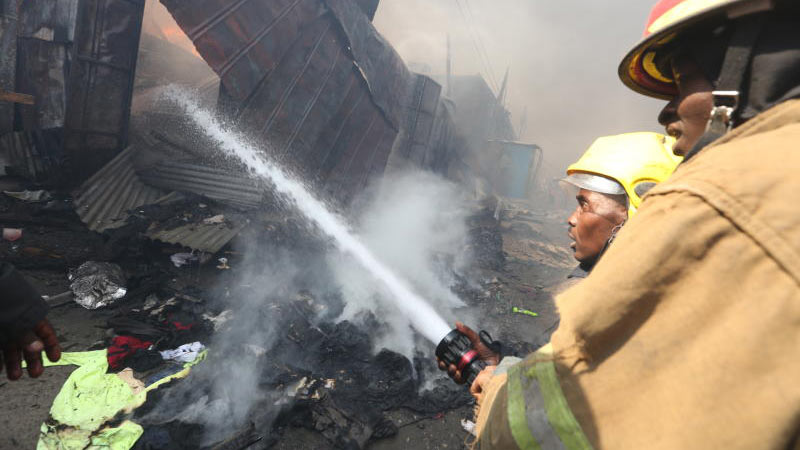 To traders at Gikomba market, fires are a regular occurrence.
Nearly every other year, a mysterious fire strikes, razing down their structures and wares. It disrupts their businesses and sets them back; but just as they are beginning to recover, it strikes again.
These fires don't just destroy property and business merchandise but also livelihoods, families and dreams.
Such are the perils of small-scale traders of Gikomba, and other markets across the country – such as Kibuye in Kisumu.
Apart from the seasonal fires, they also endure working conditions that are less than conducive, where basic amenities are a luxury.
Access to these markets during the rainy season is a struggle, thanks to poor road network, drainage and waste disposal. Their sheds barely shields them from vagaries of the weather.
Despite the neglect, these markets and the entrepreneurs play a huge role in the economy. SMEs contribute 33 per cent of Kenya's GDP and employ in excess of 10 million Kenyans.
The value of economic activity is staggering and the impact it has on the ecosystem is great. This means the sector is too critical to be ignored.
Granted, it is the role of government to provide basic social amenities in public places, such as markets. However, the task of addressing the challenges that entrepreneurs face is for all – government, private sector, non-state actors, among others.
The Gikomba ecosystem has rich representation from the private sector that cannot fold their arms and walk away.
In the financial services industry, for instance, many banks have set up shop in this area, making it one of the most heavily banked parts of the country. This is an indication of the huge potential it has, despite the challenges it is mired in.
In as much as the government takes lead in ensuring a favourable policy environment, these private sector players have vested interests in the success of the entrepreneurs too.
If business is good, the upside is for the entire ecosystem; and when it is bad, the downside is for all.
Time is nigh for the private sector to engage in progressive conversations on how to make entrepreneurs' tomorrow better.
What do we need to do as a country to facilitate entrepreneurs – the pearl of Kenya, who are driving economic transformation?
Enterprise is the best bet to growth in Africa. Thus, it needs to be supported to unlock its potential and drive inclusive growth.
Innovative solutions such as insurance are key to safeguard the entrepreneurs' hard-earned and built businesses from common shocks, such as the Gikomba fires that ever so frequently disrupt their operations. This is the only way entrepreneurs will have the confidence and guts to build their businesses for scale.
Alongside the oft-talked about need to enhance access to credit, enterprises need to be empowered to enhance their financial management skills.
This is critical, for if one does not understand the language of money. Truth is, even if you made truckloads of money, you would not know how to keep it if you do not understand its language.
It is time to rethink the financial services' sector approach to working with the enterprise community. Financial services are key to enterprise, and have to not only be relevant, but also constantly available.
It is time to rejig the model to offer beyond banking and financial services. Banking is meant to solve real problems.
Whereas traditional bankers are about pushing product, banks of the future offer solutions such 24/7 access to banking services to SMEs via innovative solutions such Stanbic Bank's Enterprise Direct - a unique offering that provides SMEs with simple convenient access to engage a Business Banker on their business needs while they run their business. This is the only way to facilitate enterprises to drive Kenya's growth.
Then there are the hardware challenges that support success of business. Through alliances and partnerships, the financial services sector can deliver solutions in a market-driven approach or community investments.
Stanbic Bank Kenya has been at the forefront in delivering wholesome solutions to entrepreneurs directly and through strategic alliances and partnerships.
This ranges from running financial literacy and mentorship programme dubbed BizConnect with Strathmore Business School to supporting Seedstars, a global seed-stage competition for start-ups.
Then there is constant innovation to deliver solutions attuned to the needs of enterprise as well as operation model that ensure entrepreneurs can conveniently access financial services any time anywhere.
This is the future. It is the spirit of Afro-capitalism, where African problems are solved by African companies.
When enterprise flourishes, unemployment goes down, crime rates fall, social welfare improves and we have a better community.
The writer is the Head of Enterprise Banking at Stanbic Bank Kenya.