Matiba remains a free spirit to the end, let's draw lessons from his life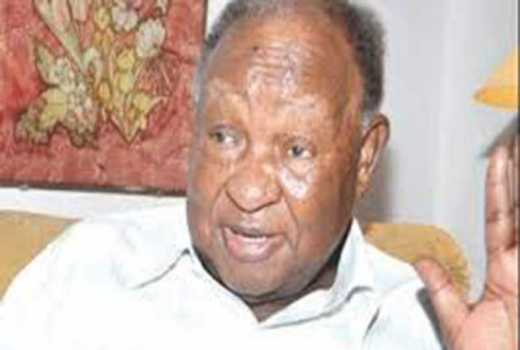 Many Kenyans have sacrificed a lot for the freedom, democracy and opportunities we enjoy today. They include thousands of ordinary folk who will never get a mention in the history books.
These are the men and women who make the right decisions on a daily basis regardless of the popular wave or the immediate personal benefit. Their reward can only be in the afterlife. But for their great sacrifice and self-restraint, those who come before them will forever be indebted to them.
Yesterday, Kenyans bid goodbye to one of the gallant fighters for freedom of thought, freedom of association and freedom of enterprise. Kenneth Stanley Njindo Matiba was a legend of our times. And by choosing to be cremated, largely loathed among majority of Kenyans, Matiba has remained true to his principles up to the end. He chose to be different and look ahead of his times.
As we freed his spirit to be with the angels, he made sure that his body will not be swallowed by the earth and confined into a pit, usually measuring six feet under. His will not be a grave affair as it were.
The iconic politician from Murang'a County has left an indelible mark on all Kenyans and his story will be told for many generations to come. There will not be a grave to point at, but his memories will be in Kenyans' hearts for generations to come.
While he was the boss at the then East African Breweries he made staff proud of their jobs and encouraged everyone to work hard to improve their lot. He made football popular and Tusker football team was a force to reckon with during its heydays.
As a businessman, he made money in the Alliance Group of Hotels, The Hillcrest Group of Schools and other ventures. Hard work, honesty and determination were his guiding principles. Those who worked with him remember his enterprise, visionary ideas and courage to venture in uncharted waters.
In the process, Matiba made immense wealth, grew his networks and created opportunities for hundreds of young Kenyans.
At the helm of the then Kenya Football Federation, Matiba established an effective football management team and propelled Kenya's Harambee Stars team to regional dominance. Many sporting Kenyans alive today recall his industry with nostalgia and attest to the fact that he was selfless and meant well for all Kenyan sportsmen and women.
When he joined politics, he worked hard to dislodge then powerful Mbiri MP Gikonyo Kiano. The constituency was later named Kiharu. Already a wealthy man, Matiba did not join politics to make money.
He wanted Kenyans to have a vibrant voice on the political platform, hence his slogan, 'Let the people decide.' When it seemed dangerous to speak out, Matiba became the first Cabinet minister to resign and join forces clamouring for multi-partyism and widened the democratic space.
The indefatigable Matiba started People Daily newspaper, which carried riveting headlines and courageous analysis of the current political undercurrents. The weekly paper was a must read for thousands of progressive Kenyans.
Many of the past and current senior journalists cut their teeth at the Matiba newspaper as it was referred to. Although the paper later changed ownership after several decades, Matiba's contribution to the growth of Kenya's Fourth Estate cannot be gainsaid.
But when he bowed out of this life, Matiba was in so much debt that you could hardly believe he was once a dashing, bubbling and flamboyant politician, who contributed huge amounts of money in fundraisers. He sacrificed his own comforts to fight for what he believed was the right political stand. He wanted all Kenyans to get a fair chance in education, decent healthcare and equal opportunity to earn a living.
By the time he left office, not a single scandal could be linked to his name. Today, how many current top politicians are linked to multi-billion shilling scams? How many have been punished? Instead, those who siphon the most from public coffers are routinely rewarded with bigger political posts. They have a lot to learn from Matiba's career.