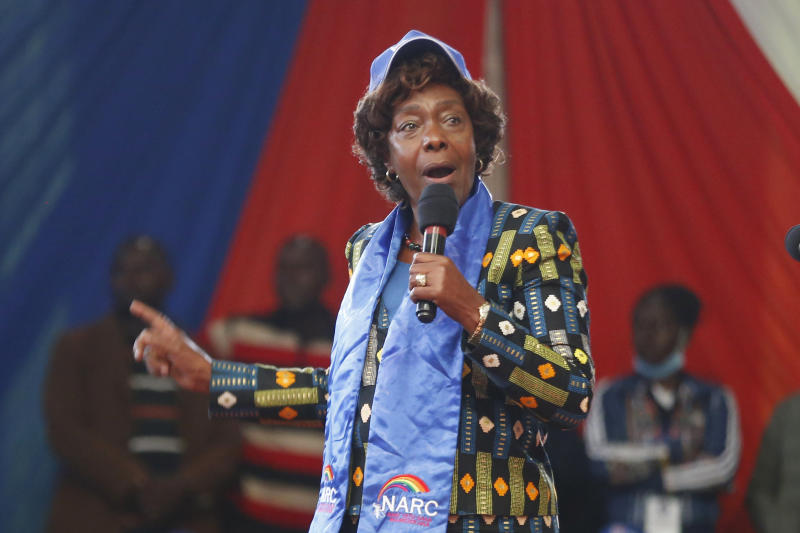 The race for Kitui governor's seat has seen four aspirants lining up to dethrone Charity Ngilu.
Ngilu is defending her seat in the face of an onslaught against her by Dr Julius Malombe, the former governor and David Musila, former senator.
Others angling for the seat are Ambassador Kiema Kilonzo and former Nairobi deputy governor Jonathan Mueke.
While Ngilu and Mueke have settled on their political parties - Narc and UDA respectively - another contest is shaping up in Wiper party where Malombe, Musila and Kilonzo are competing for the ticket.
For the Wiper party ticket, Malombe is banking on his loyalty to the party and good relations with the party leader Kalonzo Musyoka.
And to win the governor's race, Malombe says he will bank on his development track record during his time in office.
"The people have seen what we did when we were in office, they resonate very well with my track record where we ensured life-changing projects were evenly distributed in all corners of the vast county," says the former governor.
These projects included investments in water, agriculture, and health services as well as road connectivity and modernisation of markets in addition to empowering the youth.
Those who support the former governor say that unlike the other aspirants who have pockets of disjointed support, Malombe has support in all eight constituencies.
Development record
Ngilu, Malombe and Musila are seen as the leading contenders.
"Malombe's support is coming directly from the people and it is felt all over. During his administration, he was fair to all regions and left behind unmatched development record with minimal budget unlike today when Ngilu has little to show with double the budget," said Mumo Mutisya, a retired teacher from Sombe in Kitui East.
Musila who comes from Mwingi region is seeking to galvanise the region around him, something that if he succeeds in, would give him a head start.
The former senator recently rejoined the Wiper party after a falling out with Kalonzo in 2017 when Musila cited unfairness in the nomination process.
He was then the party chair and ran for governor as an independent candidate and emerged second.
Paul Kitungu, one of Musila's campaign managers says the former Provincial Commissioner will bank on his experience in public service as an administrator and in politics when he served as MP for Mwingi South for three terms.
"From his experience and performance both in provincial administration and as MP and senator, he is the right candidate to take Kitui County to the next level," said Kitungu, adding that Musila was ranked among the top-performing MPs when he was Mwingi South legislator.
He says some of Musila's imprints are in the number of day schools and dispensaries he established in his constituency.
According to Kitungu, Musila's foundation has also educated over 50 Kitui youth to university.
Kitungu denies claims that the former senator might have ditched Wiper party yet again, saying he has mended his relationship with the party leader and is keen on becoming the party's flag bearer.
Since he is the only aspirant from Mwingi region, Musila is expected to pick his running mate from the other side of Kitui.
"He will also consider gender as he plans to form an inclusive government," said Kitungu.
Malombe and Ngilu have not picked their running mates yet although it is believed they might consider choosing from either Mwingi region or Kitui South.
Kilonzo and Mueke, who are relatively young, are trying to woo the youthful voters to support their respective bids.
Kilonzo has particularly reached out to people living with disability with donations, saying for long they have been forgotten and marginalised.
Mueke says he will work with Ruto's government to bring more goodies to the county.
In the meantime, Ngilu, a seasoned politician has told her competitors to prepare for a grueling battle even as she appears keen to flaunt the gender card as one of her strategies.
"Four men have ganged up against the only woman in this race, I want you to help me defeat them," Ngilu has often times told her supporters, especially women.
The first garment factory - Kitui County Textile Centre - that she set up has won tenders to make uniforms for the police and chiefs.
The governor says her administration is based on wealth-creation as opposed to "brick and mortar development."
Her male competitors however say that Ngilu is not being rejected because she is woman, but because she has failed to account for public resources.
"Ngilu is a failure, not because she is a woman but because she is incompetent. I'm coming back to put Kitui on the right path of development," said Malombe.
And as the political heat increases, it has been said she might not defend the seat and would throw her energies to the Azimio la Umoja campaigns, hoping to secure a Cabinet slot should ODM leader Raila Odinga be elected as the president.
Some in her close circle have actually suggested that Raila should pick her as his running mate for the August 9 polls.
But Ngilu clarified that she is still in the race.
"They have now realised I am also strong at the national level but that does not mean I am quitting the county race.
"Let them prepare for the battle ahead," Ngilu said in Mutomo town last week.
Kitui county has an estimated population of 1.2 million people.
The county has an estimated 474,000 registered voters in eight constituencies, according to 2017 IEBC register.