They reported for Term 3 but found other people in their classrooms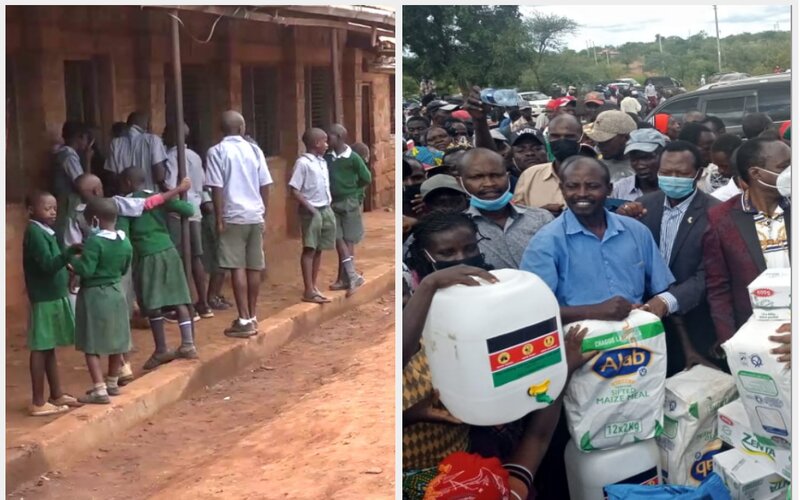 Pupils of Ndunguni Primary School in Mbeere South, Embu County reported for Term Three studies on Monday, May 10, but couldn't immediately access their classrooms.
The learners' classrooms had been occupied by internally displaced persons.
Nearly 3,000 families were displaced from Makima by the Tana and Athi River Development Authority (TARDA), which in late April claimed ownership of land inhabited by the families. Evictions were, consequently, embarked on.
The affected persons were subsequently accommodated at different public facilities, including Ndunguni Primary School.
However, it meant the IDPs, who had sought refuge at the school, had to be relocated when schools reopened on May 10.
When 99 of the 278 pupils reported for Term Three studies on Monday, they were surprised to find their classrooms occupied.
It is speculated the 179 learners who did not report to school had moved with their parents to other places, including the neighbouring counties, after TARDA evicted families from land around the Seven Forks Hydro Station.
Ndunguni Primary School's Board of Management (BOM) chairperson, William Muoki, said all the 99 pupils who resumed learning on Monday were put into three classrooms.
"No meaningful learning can take place with the IDPs occupying most of the teaching halls," Muoki told The Standard.
The BOM official said the school's administration is considering learning on shift basis.
Makima MCA, Philip Nzangi, urged the County Government of Embu and the National Government to find alternative land to settle the IDPs.
"It is unfortunate that rooms which should be used for learning are now bedrooms and kitchens," he said.
The ward representative said he has written to TARDA and Interior ministry for quick resettlement of the displaced persons, but he is yet to get any response.
Embu County Director of Education, James Kairu, told The Standard that a consultative meeting was held on Tuesday, May 11, and the displaced families agreed to move out of the school compound by Sunday, May 16.
John Ndolo, chairperson of the evictees, told The Standard they are in the dark in regard to their next move.
The Acting Managing Director of TARDA, Emilio Mugo, said the displacements were lawful as they went to court to obtain eviction orders.