Humanitarian crisis in Embu as evicted families camp in schools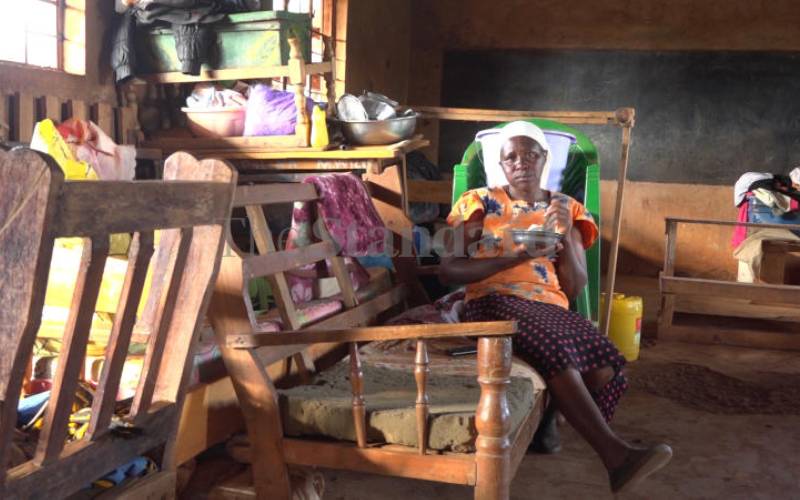 For more than five decades, a group of elders have known Ndunguni village in Makima, Mbeere South in Embu County as their only home.
Never did they anticipate that one day they would be homeless.
But a week ago, the elders together with hundreds of residents found themselves at Ndunguni Primary School as Internally Displaced Persons (IDPs) after their homes were demolished.
The demolitions by Tana and Athi River Development Authority (Tarda) has created a humanitarian crisis. Several organisations are in the process of doing rapid assessment to ascertain the needs at the school that has been converted to an IDP camp.
More than 500 households have registered at Makima IDP camp while others are at Mwanyani primary, Mwanyani secondary, Muthithu primary and Mbondoni market.
"This IDP camp is in urgent need of water, food, mattresses and blankets, mosquito nets, masks, sanitisers and hand-washing stations. There is also urgent need for pit latrines, bathrooms and sanitary towels," a humanitarian official working at the area said.
The families will eventually require a resettlement kitty to enable them rebuild their houses and restart their lives. But of urgency now is that many vulnerable groups such as children and those injured during the eviction are exposed to the vagaries of weather and unhygienic conditions, with more than 10 families sharing a classroom floor.
Local leaders place the number of displaced families at about 1,000, with many in dire need of food.
Paul Mutisya Kavila, 65, recalls how his family moved to the area from Riakanau in Mwea to make way for the expansion of the Mwea Rice Scheme.
"In 1968 while in Class Three, our parents informed us that our land in Riakanua, Mwea, would be converted to rice fields and those with cattle were informed to vacate and resettle near Tana River, where we have been living since," said Mutisya.
He said their parents had left their former homes on the understanding that they would be resettled near Tana River.
"It was during the era of the late Jeremiah Nyaga; he was Mbeere MP and everyone who settled in the area bought shares in the scheme in form of two cows each," he said.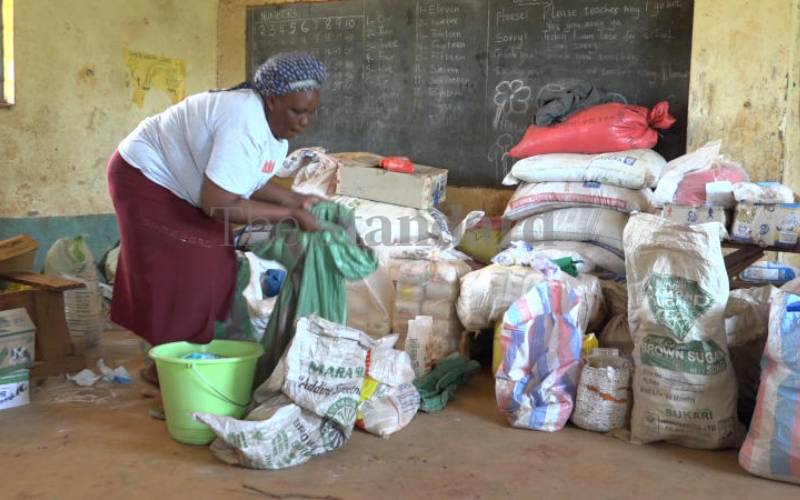 He said between 1970 and 1975, a district commissioner who he can't recall ensured that after demarcation by government surveyors, people were allocated 10 acres each and issued with allotment letters.
Mutisya said Tarda came to the area around 1978 and told those who were settled beyond what they called 'yellow line' and near Tana River to relocate. Those who defied were pushed by the raging waters from Masinga Dam that was constructed in 1978.
He noted that some people who were displaced by the waters were compensated, but others never received a penny.
He further said that as the water from the dam kept rising, Tarda unilaterally extended the yellow line without public participation or compensation.
"Last month they created a new boundary that put me inside the yellow line and I have nowhere to go with my seven children and six grandchildren. We appeal to the government to have a resettlement plan as we are not settlers, but were brought here by the same administration and without compensation," said Mutisya.
John Kilei, 73, and his wife Meta Muthike, 63, said they were lucky to have survived the demolitions as the government suspended the exercise following the arrest of area MP Geoffrey King'ang'i and nine journalists.
Kilei and his 12 children and six grandchildren have been sheltering at Ndunguni Primary School.
In an interview as he waited for relief food, Kilei recalled that his parents had relocated from Machakos in 1952 to look for grazing fields.
"I came here in 1972 and after Twanyenyi Primary School was submerged in the now Masinga Dam, I gave out my land where Ndunguni school stands though it is also set to be demolished," said Kilei.
He explained that when they settled in the area, it was inhabited by wild animals and they never thought that anyone would ever lay claim over the land.
"Through the then Karaba location chief we received allotment letters after demarcation. Some residents displaced by the waters were compensated with between Sh5,000 and Sh20,000," said Kilei.
Magdalene Kamene Muta, 53, said her house was brought down by the officers as she watched helplessly.
"I had joined my neighbours to travel to Machakos for a dowry negotiation ceremony when I received information that my shop and homestead had been demolished. I cancelled the journey," said Kamene.
She recalled growing up along River Tana where her parents had built a house before they were displaced by the waters when Masinga was built.
"We were enjoying living near the river but little did we know that Masinga would be built and push us out. We were never compensated," Kameme noted.
With her husband Peter Mutua, 61, their five children and six grandchildren, Kamene lamented that they had become beggars in their own land.
She said life at Ndunguni primary has not been easy as there was no privacy, with several families forced to share a class and a compound and without basic amenities.
"There is no social distancing here. Young children and the old are having it rough with the scarcity of food. Where will we go when schools open," Kamene asked.
Tana Athi River Development Authority acting Managing Director Emilio Mugo said the corporation had obtained a court order and the affected residents of Ndunguni area had been issue with a one and a half month eviction Notice.
"These are new entrants into Tarda land as people who were living before the constructions of the Seven forks Dams were compensated and left the land," noted Mugo.