Endangered mountain bongo to be flown from US to new sanctuary in Meru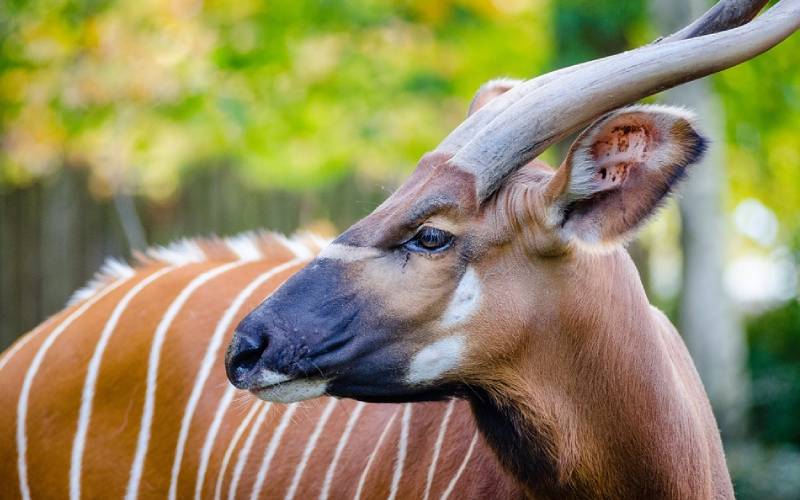 A multi-agency team has been set up to help in the conservation of the critically endangered Mountain Bongo and Black Rhino. The new Meru County Bongo and Black Rhino Conservation Trust has been tasked with the protection of the animals in a new sanctuary in Mucheene and Ntirimiti forests that are part of forests in Mount Kenya.
Experts say although the Mountan Bongo, a large forest antelope, was native around Mt Kenya, human activity has wiped them out.
Meru County Government, Kenya Wildlife Service (KWS), Kenya Forest Service (KFS) and Lewa Wildlife Conservancy have partnered to restore and protect the two animals in the new sanctuary.
Between 20 and 25 Mountain Bongo are expected to be flown into Kenya from the United States in December this year, according to John Kinoti, Lewa Conservancy's community development manager.
Kinoti said the project will see the bongos flown in to be protected at the sanctuary and a breeding programme established to increase their numbers.
"We are grateful to them (conservationists) for offering to bring a few back to where they originally lived," said Meru Deputy Governor Titus Ntuchiu.
Ntuchiu said the devolved unit, which has opened up various routes to Mt Kenya, will allocate funds for the protection of the two animals.
Terming the repatriation of the Mountain Bongo as a milestone in the county government's plan to promote mountain tourism, Ntuchiu, who is also the Finance executive, said they will protect the animals "in all ways". "This will no doubt make Meru a great tourism destination and a big step towards preservation of rare endangered species. We are going to have a specific budget for the protection of the Mountain Bongo and Black Rhino," he said.
Lewa Wildlife Conservancy CEO Mike Watson said the public-private initiative will promote the conservation of the two animals. He said partnering with other wildlife protection agencies was key to conservation of the endangered species.
Meru County Tourism, Trade and Co-operatives Executive Maingi Mugambi said the establishment of the sanctuary will not only address conservation challenges, but also promote local and international tourism.
"It will create job opportunities to the communities neighbouring the sanctuary through sale of curios and artefacts to tourists. Locals will also act as tour guides for the sanctuary. Improvement of infrastructure leading to the sanctuary will benefit the community directly," said Mugambi.