Body of class three pupil retrieved from a swamp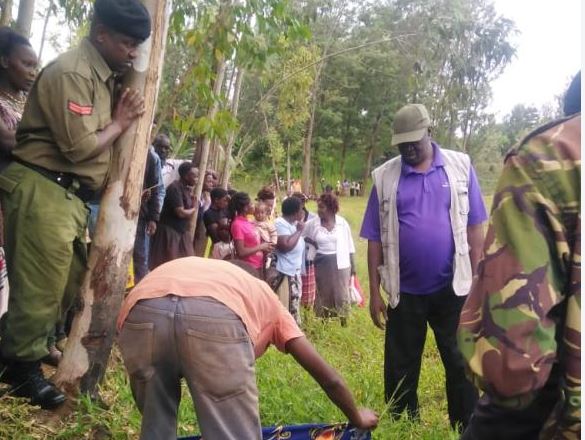 Emotions ran high at Ivari Village in Embu East Sub County when the body of a class three pupil who drowned in a swamp while swimming with three other boys was retrieved on Saturday morning.
Preston Mutugi Kivuti, a nine-year-old class three boy at Gikuuri Primary School in Embu East Sub County failed to turn home on Friday evening.
Anastacia Wanjira, an aunt said Mutugi had been sent away from school on Friday at around 10 am in the company of three other pupils.
"Preston was sent away in the company of three other boys to get a mask as the area MP was to visit the school but the mother was not informed. It wasn't until 5 pm when his school uniform was brought by a good Samaritan and broke the news that he had drowned," Wanjira said.
She said the family was shocked to learn that the kid was sent home without the parent's knowledge.
"While in school, I presume the child is under the care of the teacher until he/she gets back home," Wanjira added.
The mother, overwhelmed by emotions due to the loss of her son was unable to speak to the media.
Secily Wandiri who lives around the swamp says her daughter had confided to her that four boys had passed by the swamp in school uniform.
"The boy screamed for help when he got stuck in the swamp and when his colleagues were unable to pull him they fled away without informing anyone," Wandiri noted.
A body search exercise began but was unsuccessful.
When the search resumed on Saturday morning, a resident sighted the body that was then retrieved.
Embu East Deputy County Commissioner George Omollo said the police had received a report of missing nine-year on Friday evening but whose body was later recovered today.
Omollo said the police through the Education Ministry and other agencies are conducting investigations to establish what transpired.
The body was moved to Tenri Ena Hospital Funeral Home.