Police impound government vehicles campaigning for candidate in Machakos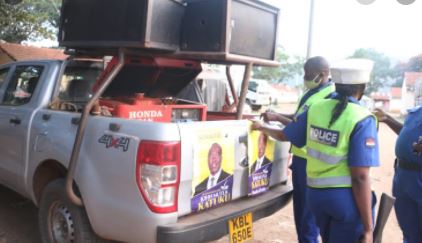 Police have seized three vehicles believed to belong to Machakos County Government after they were allegedly found campaigning for Maendeleo Chapchap candidate in the ongoing senatorial by-election.
Officers from the Government Vehicles Check Unit working on a tip off descended on the vehicles in Kathiani constituency while on a campaign trail and seized them.
The vehicles which had fake number plates were detained at the Machakos Police Station and the drivers released.
The three double cabin vehicles had been mounted with public address systems and posters of the candidate all over.
Politicians from different political parties jammed the station demanding action to be taken against the culprits.
Among those present include the GDDP candidate Simon Kitheka, his supporters and Wiper counterparts.
But in his response, the Machakos OCPD Moss Ndiwa, said their hands were tied in the matter. "Our role in such a situation when the unit impounds Government vehicles is only to detain them for some time," he said.
However, the politicians insisted that they wanted justice to prevail since this was an election offence and should be dealt with accordingly.
"We shall also petition the IEBC to take appropriate action against the particular candidate for flouting election law" said Kitheka.
The posters pinned on the vehicles bore the photos of the Maendeleo Chapchap candidate John Katuku.