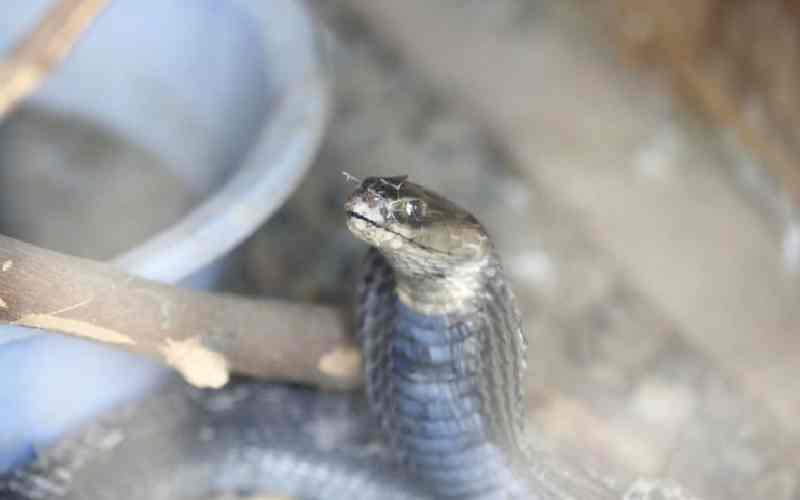 A mother's spirited fight to save her daughter's life after a snake bite bore no fruit after the little girl died before doctors could attend to her.
Four-year-old Blessy Kanana and older sister Yvonne Gacheri were playing outdoors at Kalolone in Igembe, Meru, on Wednesday when she felt sleepy and walked into the house to sleep, unaware a snake lurked inside.
Kanana a Pre-Primary 1 pupil at Rikiau Primary went into their house unaware that a snake was inside.
Interrupted, the seven-foot cobra sprang on the girl in a poorly-lit room, biting her below the elbow, on left hand.
According to Gacheri, Kanana ran out, crying that a snake had bitten her.
Attracted by the little girls' screams, their mother Jane Koome who was tilling her farm with neighbours was the first to respond, armed with a panga.
"Jane ran into the house where she found the snake back to licking the eggs. She hacked it with a panga even as it spat at her. Fortunately it did not manage to bite her, though its spit reached her. Her husband and others reached the house and assisted her kill it," said Cyprian Munanu, Blessy's uncle.
Jane picked her daughter who was by then on the ground writhing with pain and called a boda boda operator to ferry her to the Kangeta Health Centre, more than 10km away.
"Though she was unconscious by the time they reached the hospital, we do not know at what point she was overwhelmed. Our little girl's body is at the mortuary. Her sister and parents are very distraught," Munanu said.
But according to Meru County Health Chief Officer Misheck Mutuma and Dr Kellen Mumbi, the in-charge at Kangeta Health Centre, Bessy was already dead by the time she reached the facility.
"We examined her, she had wounds on her body. We requested for an ambulance and took her body to the Nyambene Level Four Hospital," said Mumbi.
Mutuma said though the girl had injuries only a postmortem will reveal the exact cause of death.
"Her parents said it was a snake bite, but medical officers (at Kangeta) could not identify the bite(s). A post-mortem will be conducted at Nyambene hospital," he said.