Calls for justice as lawyer laid to rest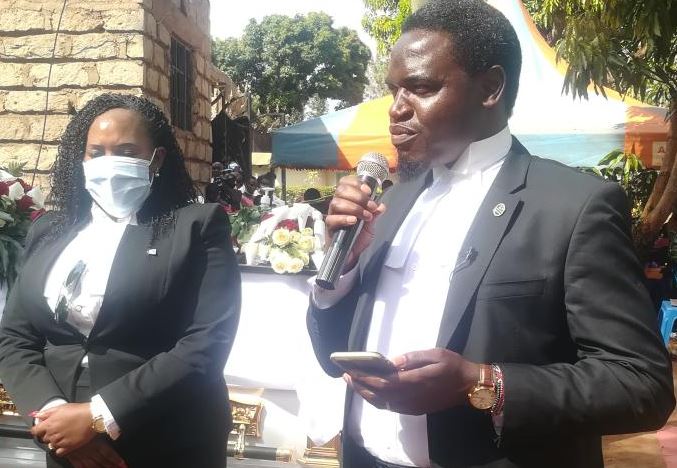 Makueni-based lawyer, Onesmus Masaku was yesterday laid to rest at Kyaume village, in Machakos County. Masaku died last Sunday after sustaining injuries inflicted by a policewoman in Wote town.
The lawyer, who died at only 27, was eulogised as a polite and honest gentleman with a promising future.
More than 300 lawyers from the South Eastern chapter of the Law Society of Kenya (LSK) led by their president Nelson Havi attended the burial.
Masaku's mother, Salome Mwikali could not hold back her tears as she paid tribute to her only child.
"My son, my strength and my hope. You were the best gift in my life and you brought joy to every part of this family. I thank God for the years He gave me to spend with you. They are unforgettable memories," Mwikali said.
The ceremony was dominated by calls for thorough, transparent and expeditious action to ensure justice. The suspect in the murder case, police officer Nancy Njeri has since been arrested and arraigned in court. Mr Havi urged the judges to fast track and conclude dozens of murder related cases involving lawyers.
Concerning advocates
"There are about six unresolved murder cases in various High Courts concerning advocates. Half of them, the suspects are police officers. The scales of justice must balance. It is the responsibility of judges to take charge of their courts and expedite justice," said Havi.
LSK Chief Executive Officer Mercy Kalondu termed the late Masaku's death an act of police brutality and called for sobriety in settlement of disputes. "We lost a great man with a brilliant future to police brutality. We condemn it in the strongest terms possible and encourage all to pursue amicable means to settle disputes," said Ms Kalondu.
Chairperson of lower Eastern LSK chapter, Justus Mutia called for speedy prosecution of the suspect implicated in Masaku's death.