How dam is changing fortunes for residents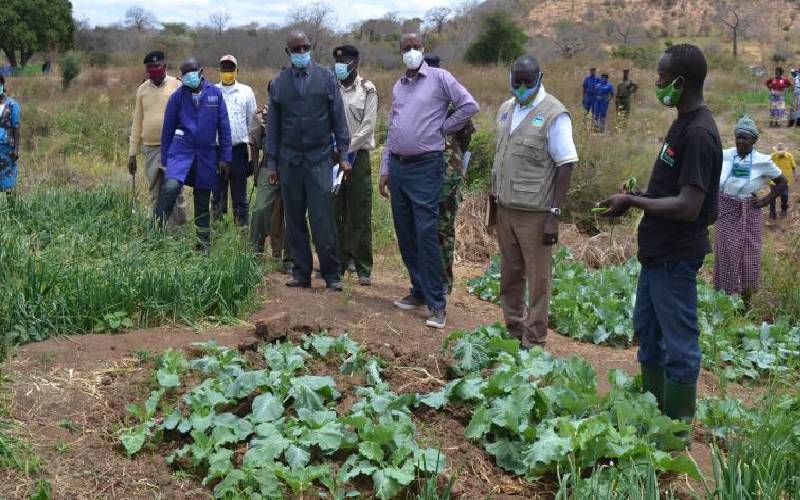 Mathima area in Mutomo, Kitui County, is characterised by the scorching sun and perennial lack of water. However, fortunes for locals are changing for the better following the construction of Kwa Ndaki dam, which has a capacity of 150 million litres of water.
Constructed at a cost of Sh28 million by the National Drought Management Authority (NDMA) with majority funding from the European Union, the dam has become a major lifeline for the residents, some of whom have ventured into small-scale irrigation farming.
As you manoeuvre your way to the dam, a cool breeze soothingly hits your body, quite a departure from the sun-baked Mutomo town about 15 kilometres away.
One shilling
The lush green vegetation cover from the nearby farms heavy with kales, tomatoes and onions is a testament that miracles have happened in this desolate locality.
"We never imagined having a water source near our homes. We were used to waking up at 2am to walk for 20km in search of the commodity… we thank God," says Charity Joseph from the nearby Makutano village while filling up her four jerricans at a designated water kiosk.
For every jerrican, the residents have to part with only Sh1 and consumers can draw water as many times as they wish. The project is designed with a powerful solar system to pump water from the dam to erected massive water tanks. There is also a treatment plant where the water is purified before being released to the water kiosk. In addition, there are designated water troughs for livestock.
"Nowadays I can sleep all I want because I am assured of water at whatever time I arrive," says Joseph.
She adds that in the past, school-going children would spend hours helping their parents search for the valuable commodity, saying that early pregnancies among teenage girls were the order of the day.
Shadrack Mbuvi, a trained teacher who is yet to be employed, has taken advantage of the availability of water to engage in agribusiness.
At his one-acre farm next to the dam, Mbuvi has a ready-to-harvest onion crop. "I am expecting six tonnes of onions. It has a ready market," says the 26-year-old teacher.
With a kilo going for between Sh70–Sh80, Mbuvi is looking at a tidy sum. "I am urging the youth to be innovative, we do not have to look for white-collar jobs that are hard to come by. We can create our own income," he says.
Mbuvi says the dam has been a game-changer particularly for him. In the past, he used to farm southwards at Kalambani along the banks of River Thua, some 45km away. This took a toll on him and ate into his profits, he says.
Another farmer is Alex Musyoki, who grows kales. He says these are giving him good returns with minimal cost since buyers come to his farm.
Francis Koma, Kitui Drought Coordinator at NDMA who spearheaded the project, says the livelihood component is critical in improving people's lives.
"We are encouraging and supporting locals to go into small scale irrigation farming, beekeeping and environmental conservation.
The dam has enough water for human and livestock consumption and enough to create a stable food security base for the residents," he says.
A few weeks ago, the life-changing project attracted the attention of Chief Administrative Secretary Abdul Bahari from the Ministry of Devolution, who toured the dam and encouraged locals to venture into agribusiness and reduce dependency on relief food.
Bahari said the national government was willing to partner with the county government to improve livelihoods for farmers in dry areas.
"You have seen how small efforts can change people's lifestyles. You need to think of activities such as beekeeping, pasture growing and others that are income-generating," Bahari said.