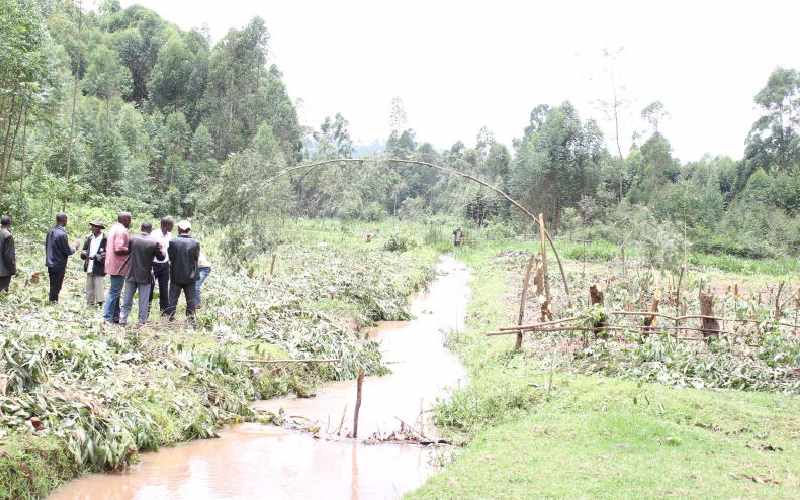 Fourteen years after scientists from the International Centre for Research in Agroforestry (ICRAF) advised against planting of eucalyptus and pines on riparian land, many Kenyans with eucalyptus trees have continued to disregard the warning.
In 2006, ICRAF warned of the dangers of planting these type of trees on such areas as they were high water consumers and would lead to drying up of water sources.
Water guzzler
The late Nobel Peace Prize winner and renowned Kenyan environmental campaigner Wangari Maathai on several occasions also called for a ban on commercial eucalyptus tree plantations in Kenya.
She had observed that other than the negative impact on water systems, eucalyptus, which is called the water guzzler is also hostile to other species and almost the entire local biodiversity. In the face of all the evidence about the impact of the blue gum trees, many farmers continue to downplay the issue.
Read More
In Kisii, Governor James Ongwae gave a 90-day notice to small- and large-scale commercial eucalyptus farmers to cut down the trees planted on riparian land.
The governor's decision was reached after consultations with elected leaders from the region including his Nyamira County counterpart John Nyagarama.
"I hereby direct that the County Government of Kisii shall commence the cutting down of Eucalyptus trees planted and demolition of informal settlements erected on wetlands and marsh areas," read the directive issued in July 2019.
But some residents argue that the decision was made in a hurry and will have an adverse impact on their livelihoods.
A mature eucalyptus tree fetches between Sh3,500 and Sh4,000. In a region where high population density has eaten into cash stop incomes, this money is a lot.
Elijah Makori had almost a quarter of an acre under blue gum trees. He had to cut down all the trees for timber. "I have not sold the timber yet, the market is bad now," he said.
For Susan Mokeira from Kitutu Chache South, the exercise was done hurriedly. "I had a projection of more than Sh200,000," she said.
Leonard Offula, the Kisii County director of National Environment Management Authority, said the exercise was well intended.
"For the last five months, we have not continued with the programme.
Sensitise farmers
We will resume and ensure that we have achieved our target," he said.
County executive for Environment and Natural Resources John Momanyi said the county will sensitise farmers on negative impact of eucalyptus tress.
"We have financial constraints as well as the coronavirus pandemic. We started well but at the moment, we are at a standstill."