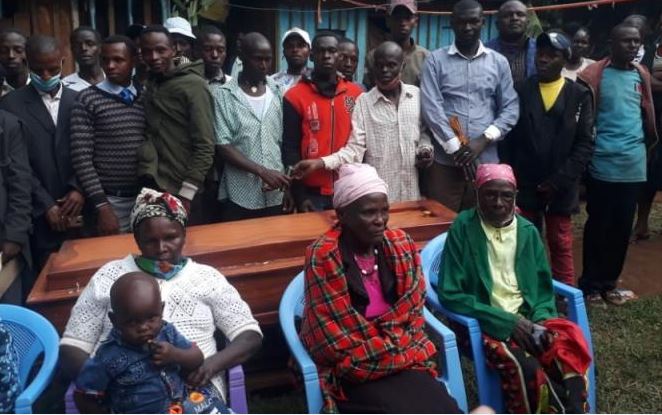 A family in Meru was in a dilemma on how to perform the burial rites of their polygamous patriarch.
The challenge facing the family of Zakayo Migwi, who according to relatives died barely five months short of his 99th birthday, was how to conduct the funeral in line with the government regulations and protocols.
His immediate family is way past the stipulated number of 15 as the elderly man had 34 wives, 150 children and over 200 grandchildren and great-grandchildren.
Read More
As a result, the police watched helplessly and understandably so, as the burial ceremony took place surpassing the stipulated number.
It was a ceremony of its kind only attended by close family members but which raised curiosity among the villagers in the sleepy village of Mwiriene in Igembe North, Meru.
Due to the small size of the compound, social distancing was impossible, and few had masks on.
"Only 36 of my siblings attended the burial, plus four wives and 300 grandchildren and great-grandchildren. The coronavirus regulations dictate that only close family should be at a burial, which made many friends and extended family miss," said Isaiah Migwi.
Isaiah, 62, and the fourth born of the deceased, said even his own children, including his 42-year-old son could not attend as he was in Nairobi.
Migwi was buried at the home of his son Joseph Migwi, 60, his fifth born.
At the burial, only 34 wives were recognised in the eulogy, but the family acknowledged that there had been other wives who separated with the patriarch and had gone their separate ways.
"Many of the close family would have wished to pay their last respect, but the challenges of traveling due to the coronavirus robbed them of this important opportunity," lamented a grandson, William Mithika, 34.
Mr Mithika said his grandfather had instructed that his body should not be kept for long before burial.
Migwi accumulated his wealth as a road constructor and coffee farmer. He was credited with opening many of the major roads in the Igembe region.
In a past interview with The Nairobian, Migwi said: "I had over a million coffee trees at Antubetwe Kiongo, which I sold at Sh1 apiece and afterwards planted miraa. I sold a lot of miraa to traders from Isiolo. Back then there were only three of us with miraa in the area," he said.
Until his death, he lived at his expansive farm at Kiutine in Igembe Central, acquired and inherited large swathes of land from his father, Kiruura, who was also polygamous but had only five wives.
One of wives Mary Kambura said Migwi had managed to live for so long in good health, because of a strict diet, and shunning unhealthy foods.
In his old age, he suffered diabetes and mainly ate mashed bananas, potatoes, yams and millet porridge. "He kept off kept off rice and ugali too," said Kambura, who is in her 60s.
But he died a bitter man, as he had no pension despite opening up so many roads in the region.
"I worked to clear all this area and opened new roads before they were tarmacked in recent years. But I did not receive a single cent as pension, yet it is my right. I have always aspired to be fair to all, and expect the same!" he had said in the interview.