PNU and assembly in tussle over MCAs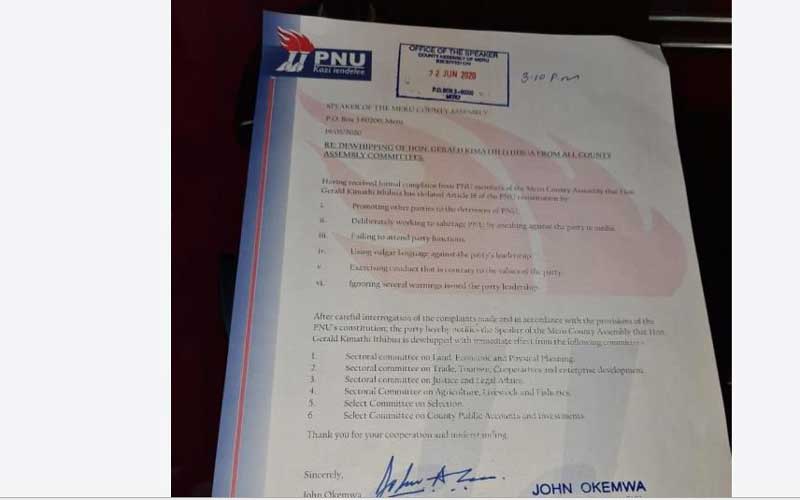 The Party of National Unity and Meru County Assembly are on a collision course over the de-whipping of three MCAs.
PNU, through Secretary General John Okemwa had removed Kimathi Ithibua and Romano Mwito as chairmen of the Public Accounts Committee and Water Committee, respectively.
In a letter to Speaker Joseph Kaberia, the party had also removed Mikinduri MCA Gabriel Chokera from various assembly committees.
PNU said it took disciplinary action against the trio because they were promoting other parties, to the detriment of the party.
The three were also accused of failing to attend party functions, deliberately working to sabotage the party, using vulgar language against its leadership and ignoring warnings issued.
But in a motion sponsored by Igoji West rep Mutembei Mbiuki and supported unanimously in the assembly, the House decided to reinstate the trio.
The members of the committees quickly congregated and elected Ithibua and Mwito as chairmen of their committees once again setting in motion a potential conflict with the party leadership.
After the passage of the motion which offered lifeline to the trio, Majority Leader Victor Kariithi said they did not want any MCA to fall victim to dictatorship.
"We do not want any MCA to be fought for working with the Meru Executive or for having divergent opinion. We have agreed that the letter drawn by PNU was unfair," said Kariithi.
But Ayub Bundi (PNU, Abothuguchi Central Ward), dismissed the motion saying the party had de-whipped the members on disciplinary grounds.
"A motion cannot supersede the law. We are going in the wrong direction," said Bundi.
PNU Chief Whip Kimathi Ithibua said the assembly had gone against the Political Parties Act that empowers a party to remove a member from a committee.