State launches Sh100 million potato plant in Meru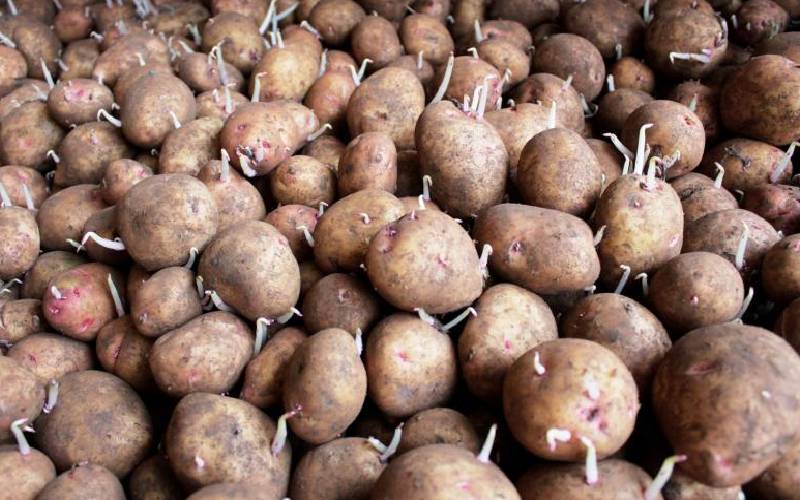 The government has launched the construction of a Sh100 million cold storage plant in Meru.
The plant is being constructed on community land at Ngusishi, Buuri West subcounty.
The construction is expected to be completed in three months. It is one of three such facilities that the government intends to construct at a cost of Sh300 million.
Small and Micro Enterprises Authority MD Henry Rithaa said,"We were given Sh100 million each for Meru, Nyandarua and Kisii counties. We started construction in Kisii a month ago, in Meru today and in Nyandarua next week."
The plant will have a storage capacity of 600 tonnes for a period of up to eight months. This will help to reduce post-harvest losses for potato farmers, increase income and eliminate middlemen.
When the plant is fully operationalised, farmers will access loans from financial institutions against their stored produce.
"The Ministry of Agriculture is working on rolling out warehouse receipting so that farmers can use receipts from warehouses across the country as security to access loans," added Rithaa.
He further urged farmers to form cooperatives to produce enough potatoes to sustain the facility.
Trade and Industrialization CAS Lawrence Karanja met Meru County Commissioner Allan Machari and Meru Governor Kiraitu Murungi before the groundbreaking. He said the plant would save the one third of harvest which farmers lose every season to spoilage.
Following an outcry over implementation of the 50kg packaging regulations for irish potatoes, Karanja called on all local and national government agencies to work together to ensure all counties are compliant.
Karanja, while handing the project over to Abbey Construction Ltd, warned against delays and delivery of shoddy work. The contractor was also asked to use locally sourced labour.
Produce delivered for storage at the facility will be examined by a quality survey officer and thereafter sorted to ensure what is going into the storage facility meets market standards.