Man who glued wife's private parts remanded at Embu prison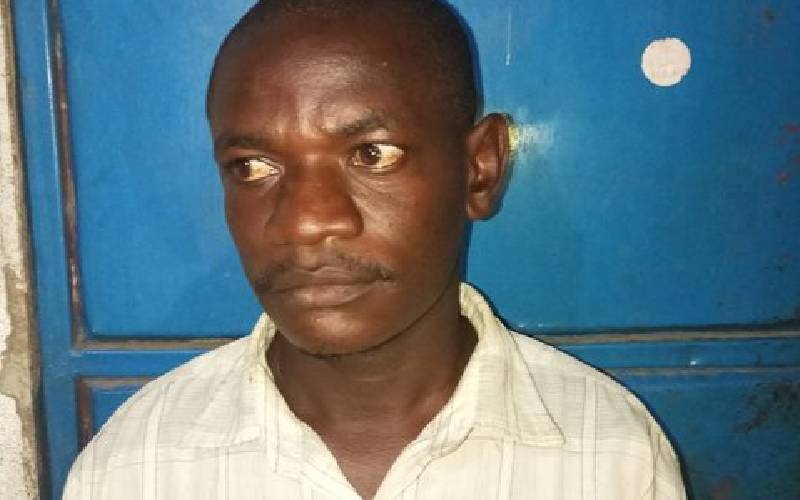 James Kifo, the man who glued his wife's genitals in Tharaka Nithi, has been remanded at the Embu GK prison until June 10 pending bail ruling, the Chuka court ruled today.
Appearing at the Chuka law courts, Kifo denied charges of sexual assault, attempted murder, committing unnatural offence, and acting indecently against wife.
In a case before Resident Magistrate Njoki Kahara, he was also charged with breaching the Nairobi area blockade which is under cessation following Covid-19 pandemic.
His wife aged 23 was sexually assaulted in Tharaka South, and has since said she will stay away from him.
Kifo (pictured) is said to have returned home after a long sojourn in Nairobi and attacked his wife by first inserting pepper, salt and onions in her private parts using a sharp knife, before applying superglue mixed with sand to 'seal' it up.
He was arrested as he sought protection charms from a witch doctor at Kaningo, Tseikuru in Kitui County.
Kifo was apprehended just as the witchdoctor, one James Murogi Maingi was preparing to administer the charms to protect him against the arrest.
The long arm of the law finally caught up with him after playing hide and seek with the police for five days.
In what reads like a scene from a horror movie, the suspect inexplicably escaped the blockade placed around the Nairobi Metropolitan Area to travel upcountry.
Speaking to The Standard, the woman said she is back with her son to Njabini in Nyandarua.
In an incident that has left residents of Kamatungu village in shock, Kifo, who has been described as troublesome, did the macabre acts as their three-year-old son watched.
It is the cries of the boy that alerted the neighbours about the gruesome attack on his mother that has seen the woman nursing serious injuries.
Kifo told locals he worked as a watchman in Nairobi, but the police suspect he was involved in crime in the city.