Heroic KQ pilot who flew to New York to rescue stranded Kenyans laid to rest after succumbing to Covid-19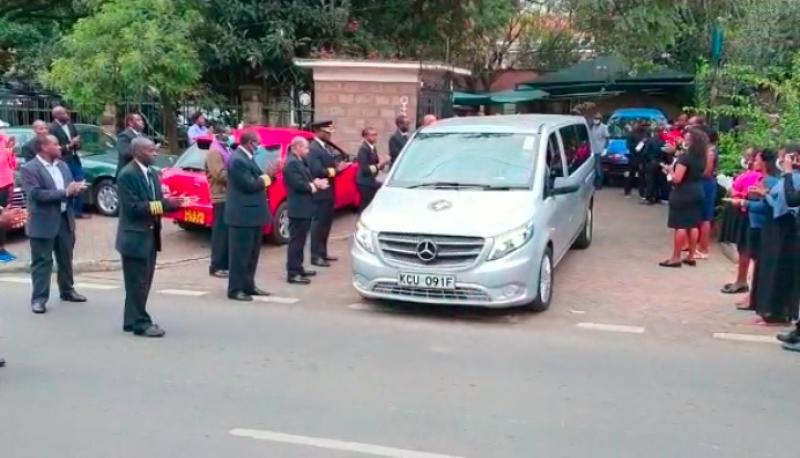 The Kenya Airways (KQ) pilot who flew the last flight from coronavirus epicentre in the US was yesterday laid to rest at his rural home in Kitui County.
Major (Rtd) Captain Daudi Kimuyu Kibati succumbed to Covid-19 at the Nairobi Hospital on Wednesday where he had been admitted since March 29 when he started showing symptoms of the disease.
His body was picked from Lee Funeral Home early in the morning in a colourful ceremony staged by fellow pilots in full uniform.
And as last respects to their fallen colleague, described my many as courageous and dedicated, the pilots escorted the body in a motorcade up to the Machakos turn-off along Nairobi-Mombasa highway before turning back to Nairobi.
Following the government's directive to minimise crowds in the wake of the virus, Kibati's funeral was low key at his Kavisuni village home in Kitui Rural Constituency, attended only by a few close family members.
Captain Kibati, who retired from the Air Force to join commercial flying in 1994, was eulogised as a composed and protective family man who was humble and selfless.
His widow Jane described her fallen husband as a brave soldier who would not hesitate to take the bullet to save his family.
"You were very selfless such that if you were here today and asked who should suffer this worldwide beast, Covid-19, you would say 'of course it's me'. We shall always cherish every moment we shared with you," said Jane.
His son, Paul, a medical doctor, said his father had taught the family humility and respect and showing kindness to all.
Perhaps it was this selflessness that saw the captain, 62, accept the risky assignment to fly to the coronavirus ravaged New York City to rescue Kenyans stranded there.
Health Cabinet Secretary Mutahi Kagwe, while sending condolences to the family, praised the pilot and urged Kenyans to emulate him.
On Monday, March 13, the high spirited Captain Kibati flew Dreamliner Boeing 787 from Jomo Kenyatta International airport (JKIA) to the New York and returned to the country two days later. As usual, he was in good spirits and following the government's directive, he was placed under quarantine at the Four Points Sheraton Hotel together with his crew members and passengers.
While in quarantine, he began to feel unwell, leading him to be transferred to Nairobi Hospital on March 29 where he tested positive for the disease. He was placed in an isolation ward where he died on Wednesday.
Live smart: Tips to keep in mind
Different people have different approaches to how they manage and invest their money. Today we look at financial advice from five experts.