Rioting students raze down slum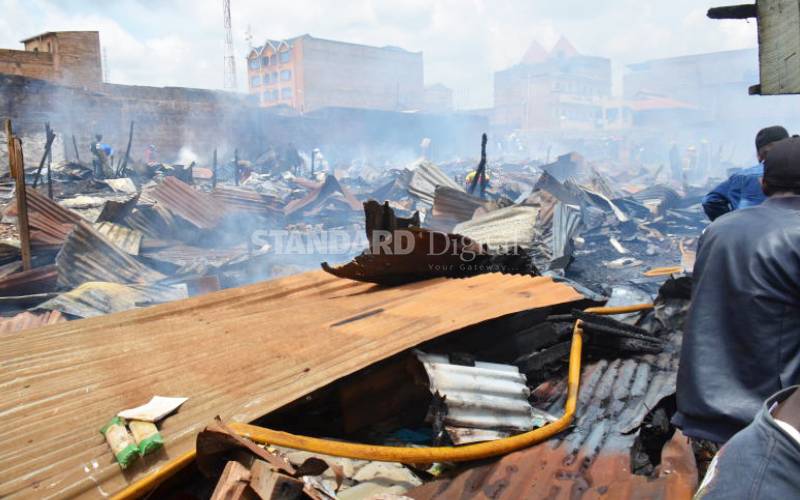 Property worth millions of shillings was destroyed at Makutano area yesterday after Meru National Polytechnic students went on the rampage to protest their colleague's killing.
The student, sponsored by the National Youth Service for an electrical engineering course, was murdered on the Meru-Maua road, before his killers dragged the body and dumped it in a ditch near Makutano slum.
The students poured into Makutano township near the institution where they destroyed property before razing down the slum.
The students also lit bonfires along the Meru-Maua, Meru-Nanyuki highways, paralysing transport and business activities.
Police had a difficult time trying to quell the riot.
At one point the number of students threatened to overwhelm the anti-riot police who called in for reinforcements.
Many business premises, including major supermarkets and hotels were closed after the students poured into the streets baying for the blood of people they blamed for the death.
A number of businesses including boda boda operators lost their motorcycles after the students set them on fire.
Police say the dead student from Bungoma County was strangled and hit with a blunt object on the head.
He was attacked near the slum, students claim is a den of criminals, accusations denied by residents.
"We received a call very early in the morning and I personally went to the scene. We found him dead and dumped in a ditch. It seemed he had also been robbed because his pockets appeared to have been ransacked. We identified him by his national and student identity cards," said the polytechnic's principal, Geoffrey Rukunja
The polytechnic located on the Meru-Nanyuki highway boasts of about 9,500 students, who have in recent weeks protested rampant insecurity in the area.
The students said robbers have been attacking them in their places of residence and stealing electronics, money and other valuables.
"Two weeks ago we had a meeting with the county security team who pledged to address the runaway insecurity at Makutano where the students live. They have been attacked in their houses in the past. A student was stabbed not long ago," said Rukunja.