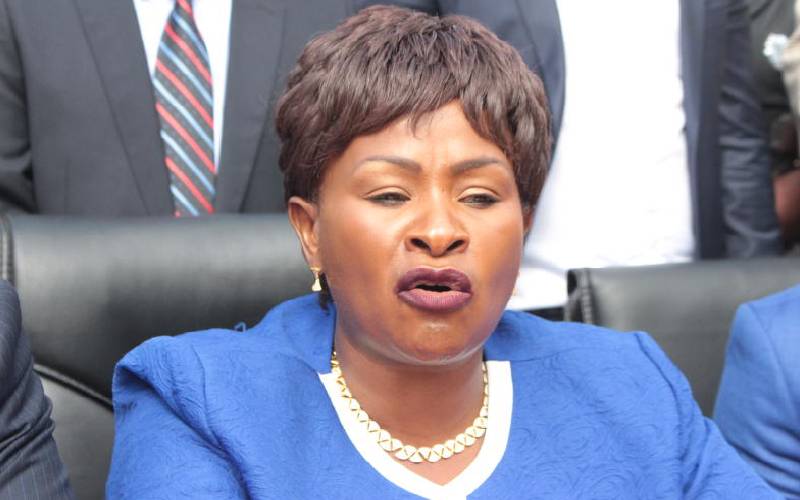 Newly nominated Transport Chief Administrative Secretary (CAS) Wavinya Ndeti (pictured) has hailed President Uhuru Kenyatta for nominationg more women as CAS in the new Cabinet reshuffle.
She said the appointments were fair to women and showed that President Uhuru was committed to bridging the gender gap and uniting the country.
"If you look at the CAS nominees alone, out of the 15, women are more than a half which is a good thing for the two-third rule and gender balance," she told Standard digital on phone.
She urged the nominees to serve those capacities diligently to prove show Kenyans that just like men, women are ready to serve their country.
"If we serve well in these positions, we will be telling Kenyans that women are ready to serve in both top elective and appointive posts and that it is high time we were trusted," she said.
Earlier, the former Kathiani lawmaker also thanked President Uhuru for showing confident in her and naming her to serve as CAS in the Transport ministry.
Wavinya took to his official twitter handle to express her gratitude and vowed to serve Kenyans in the position.
"I thank the Almighty God for his boundless grace. I also thank His Excellency President Uhuru Kenyatta for giving me this opportunity to serve the people of this great country as the Chief Administrative Secretary (CAS) for Transport. It's time to get down to work and get the wheels moving," he wrote on Twitter on Tuesday evening.
The 2017 Machakos Gubernatorial aspirant also seemed to revisit the 2018 handshake between President Uhuru Kenya and ODM leader Raila Odinga when she hailed the ODM leader and Wiper leader Kalonzo Musyoka for uniting the country through the handshake.
She also thank her supporters all over the country for always standing with her in bad and good times.
"I also thank my people of Kathiani, and Machakos County and my supporters across the country for their endless support, and to my party leader Kalonzo Musyoka and the Rt Hon. Prime Minister Raila Odinga, thank you for your advice and support too. Let's get the needle moving, and serve our great country Kenya. I am looking forward to working with the Cabinet Secretary in charge."
The nominees now awaits the vetting exercise by Parliament before taking the jobs officially.
The challenged the nominees (those below 30) to act as role models to all their fellow young people, and also instill and preach the right ideals of patriotism, excellence in public service and integrity.
The President congratulated the nominees and announced that he was looking forward to working with them.