Seven dead, 60 injured in Modern Coast bus crash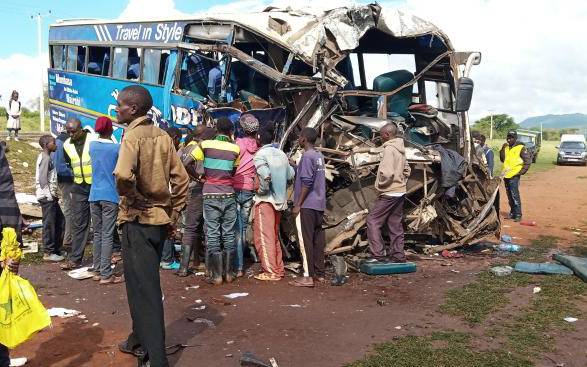 Survivors of two Modern Coast buses involved in an accident that left seven people dead have told of their lucky escape.
The two buses collided head-on at 2.30 am yesterday at Kiongwani near Salama town on the Mombasa-Nairobi Highway. Five people died on the spot, two others succumbed to their injuries in hospitals and 60 were injured.
One of the buses was coming from Malaba heading to Mombasa while the other bus was Nairobi bound.
"I boarded the vehicle at Eldoret, I can't tell what happened since I was asleep. I just woke up and found people crying, screaming then getting assisted out of the vehicle," said a survivor identified as Ms Mwabire.
David Kosgei, a Moi University student, said the driver of the oncoming bus tried to overtake resulting in the accident.
Christine Kanzia, a resident of Kiongwani where the accident happened, said they heard a loud bang, then screams from the passengers before rushing to the scene where they rescued several people.
Meanwhile, the National Transport and Safety Authority (NTSA) immediately suspended the licence of Modern Coast Bus Company.
In a statement, NTSA Director-General George Njao said investigations had began into the operations of the company.
"Over the last days, the authority has been monitoring the operations of the Modern Coast Bus Express Limited following reports of several fatal accidents," Mr Njao said.
Chaotic scenes played out at the Modern Coast Bus booking offices in Mwembe Tayari, Mombasa, yesterday as angry passengers were forced to cancel their trips with the bus service.
Passengers who had arrived ready to start their journeys were taken aback when informed about the NTSA decision.
Booking clerks had a rough time explaining to passengers about the new developments.
"We have been seated here since Midday and no manager has told us about the decision by NTSA. In fact, we just saw online news and when we inquired, there was no good answer," said Ann Santa, who was travelling to Kisumu.
Another passenger, George Cornell, from Kisauni was preparing to travel to Busia to attend the burial of his aunt on Saturday.
[Stephen Nzioka, Philip Mwakio and Weldon Kipkemoi]