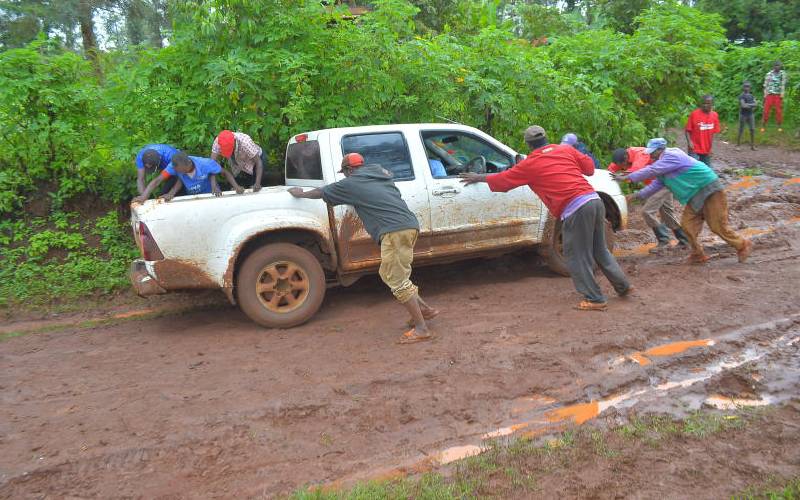 Two hospitals in North Imenti cannot evacuate critically ill or injured patients due to poor roads.
Residents of Gitoro, Kambakia and Makutano township have complained that lack of good roads in the area, which is less than 10 kilometres from Meru town, is putting patients' lives at risk.
The two hospitals with in-patient wings are the Catholic Diocese's Consolata Gitoro Hospital and the Jordan Hospital, a private facility.
"While we appreciate that the national and county governments are not in sound financial health, we are appealing for the tarmacking of the road from Makutano to the hospitals. Our aunt was in a critical condition last week but since it had rained heavily, we could not drive her to hospital as the road was muddy and slippery," said Jacinta Koome from nearby Kambakia village.
Koome said they had to take their aunt to the far-away Meru Level 5 Hospital where she is still admitted.
Sister Teresa Kamene, the officer in charge of the 62-bed Consolata Hospital, said rains occasionally cut off the facility from residents.
Residents are appealing to the government to extend tarmac to reach the two hospitals, which serves North Imenti.
Dairy and coffee farmers and major industries along the road from Makutano to Kambakia have also added their voices to the matter.
"The government is tarmacking a small section up to the Three Steers, but it should be extended. This road serves tea and coffee farmers, and residents with large dairy herds," said Kirimi Jervase.