Court quashes Warma's attempt to demolish Greenpark estate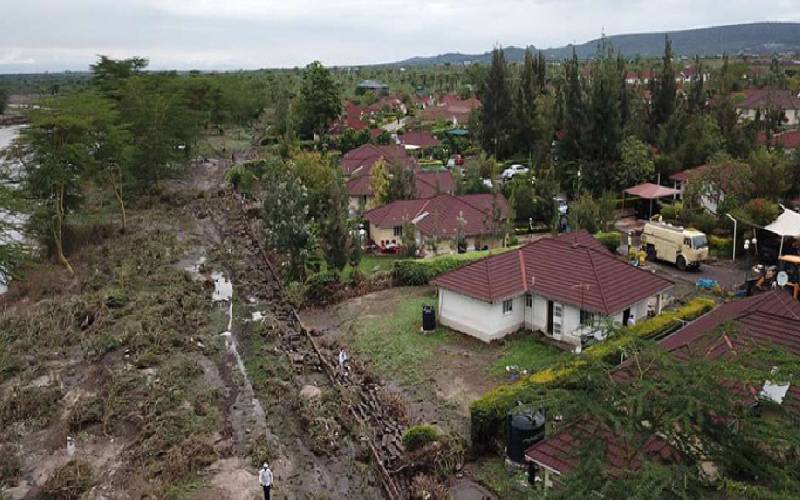 Hight court has ruled that houses belonging to Superior Homes in Athi River, Machakos County, were not built on riparian land.
An Environment and Land Court has set aside an order by Water Resource Management Authority (Warma) seeking to demolish part of Greenpark Estate over claims they sit on riparian land.
High Court Judge Oscar Angote of Environment and Land Court has ruled that seven houses that are in the Greenpark estate are not built on reserve as had been claimed by the agency.
"I restrain Warma from demolishing or interfering with the high-end estate, built by Superior Homes in Athi River," Angote ruled.
The judge at the same time allowed Superior Homes to reconstruct its collapsed perimeter wall.
Warma claimed in a suit filed against the estate owner that seven houses were developed on riparian land bordering the River Athi.
Superior Homes through lawyer Philip Nyachoti had filed an urgent application seeking orders to stop Warma from demolishing the houses.
The lawyer had accused Warma of claiming the houses had encroached on riparian land, yet its own survey report on the property had indicated otherwise.
The judge ruled the water banks have been raised to the standards of 30 metres from the normal flow of a river. The determinant distance of 6 metres and 30 metres determines the distance length and width of the river.
"I restrain Warma from interfering with the developer's quiet possession of the said houses," ruled Angote.
He added that the evidence before the court showed that Superior Homes wall collapsed due to the flooding that occurred in March-May, 2018.
He ruled that the flooding could have contributed to the loss of business, reputation and unrecoverable costs.
The flooding of March 2018 was unprecedented. As experts have said on record, the flooding was most likely caused by the obstruction of flow that occurred during the construction of a bridge across the Stony Athi River on Mombasa Road.
The court, however, declined to award the petitioner the damages stipulated in the further affidavit because it was not Warma who caused the loss.
Superior Homes is seeking over Sh520 million arising from loss of business, damages and costs.
Individuals who had bought homes were enjoined in the case and argued that Warma alongside other agencies had cleared the construction of the houses.
They claimed that a 21-day notice was unfair, and had caused anxiety over millions of shillings' worth of investments that risked being poured down the drain without any justification.