Meru, Tharaka Nithi governors in threat to sue over county results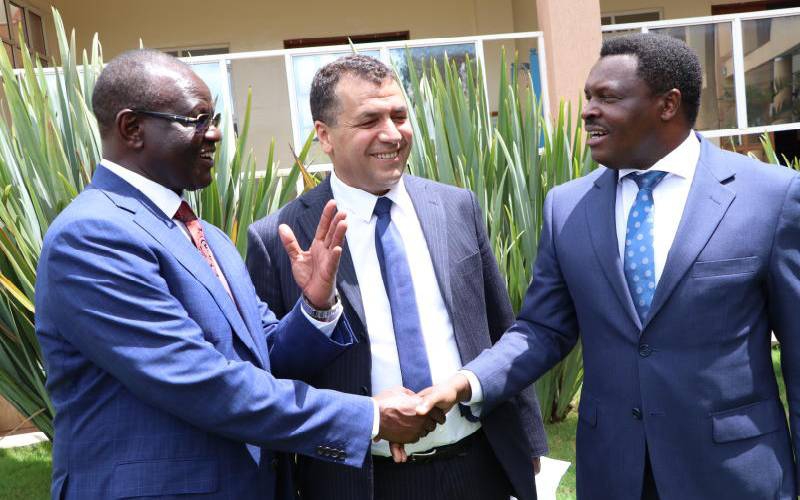 Two governors from Mt Kenya have threatened to launch a legal challenge against the results of the 2019 Kenya Population and Housing Census released yesterday.
Kiraitu Murungi (Meru) and his Tharaka Nithi counterpart Muthomi Njuki yesterday claimed the results 'did not reflect the situation on the ground'.
Kiraitu claimed that some Meru residents had been wrongly moved to Isiolo County because they live in a disputed boundary area between the two counties.
"We would like to petition the Kenya National Bureau of Statistics (KNBS) to revert our people who have been wrongly placed in Isiolo, to their rightful areas," Kiraitu said in a statement released by his chief of staff and public service chief officer Gideon Kimathi.
Mr Njuki and Tharaka MP Gitonga Murugara also vowed to go to court over the results, saying it was unlikely the county had 393,177 people as indicated in the census report.
Njuki said the 2009 census revealed the county had a population of 365,330 people and it was unlikely the number grew only by 27,847 in 10 years.
"That would translate to only eight children born in the whole county per day," he said.
The Tharaka Nithi boss claimed that records at the Chuka County Referral Hospital showed that the facility recorded nine births daily.
Kiraitu claimed residents of Epinding and Ngaremara in Tigania East and Kachiuru in Igembe North had been wrongly placed in Isiolo North when their enumeration codes clearly indicated they were in Meru County.
"We are angry because when the enumeration codes were generated, Meru County Commissioner Allan Machari wrote to the KNBS asking them to correct the anomaly. That was in October 2018 but it seems that it was never effected," he said.
He said placing the residents in Isiolo would take Meru's resources to the neighbouring county "when we are using our resources to develop those areas".
Kiraitu also claimed the results would give the neighbouring county legitimacy to claim the disputed boundary region.
He, however, said they were happy with the population numbers attributed to Meru and hoped that the figures would translate into increased budgetary allocations.
"It was like we always said, that we have more population and deserve a bigger national cake to take care of those numbers," Meru Senator Mithika Linturi said separately.
North Imenti MP Rahim Dawood said the results had shown that some areas in the country are not as populated as was previously claimed.
"The results give us an opportunity to make some clear thinking especially where it has been shown that some sub-counties in this country are more populated than counties elsewhere," said Mr Dawood.
He added: "The figures give the nation an opportunity to realign boundaries as well as some important demographics in matters such as unemployment and poverty levels, which will inform the distribution of public resources to counties and constituencies in the next decade."
South Imenti MP Kathuri Murungi said he was 'generally happy' with the numbers returned for Meru.