Anxiety as cash crop fails to flower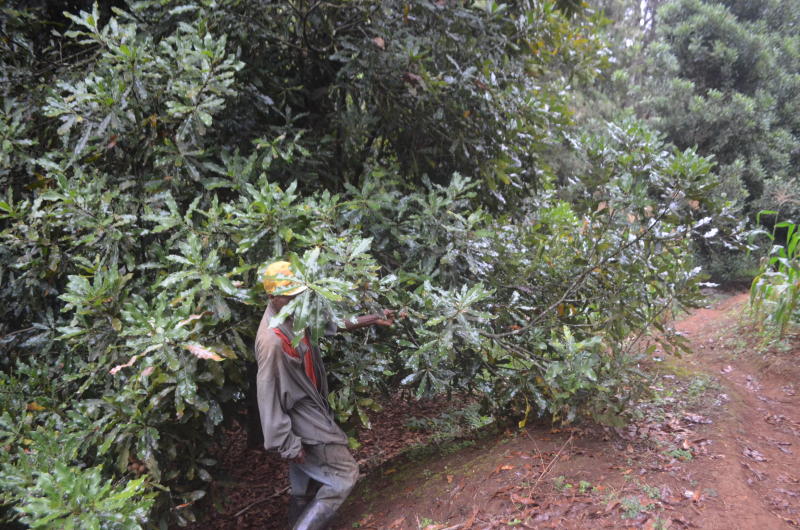 Macadamia farmers in Mt Kenya are staring at losses after the crop failed to flower.
Experts attribute the failure to the prevailing cold conditions.
The farmers, majority of whom have abandoned traditional cash crops of tea and coffee in favour of the lucrative nuts, are anxious about the phenomenon that makes their crops appear barren.
According to the experts, the prevailing unpredictable weather patterns in Mt Kenya region has affected the flowering season of Macadamia nut trees.
The flowering which should have occurred one and a half months ago is nonetheless, being hoped for if the weather pattern changes for the better, according to Anthony Nyaga, a crop Research Scientist.
The Thika-based expert says the trees can also experience cyclic effects, producing for about 3-4 consecutive years.
He says the prevailing low temperatures are responsible for the delayed flowering of the cash crop.
"When the temperatures are below seven degrees during the day and night it affects the fruit crop leading to production of vegetation only. Only rains may trigger flowering," Nyaga said.
Traditional variety
Irene Nderi, a prominent macadamia nut farmer from Ngiriambu village in Kirinyaga East sub-county, said she has never witnessed such a situation during the 25 years she has been farming the crop.
An Embu-based nut processor Patrick Mukundi said it all boils down to the variety farmers planted.
"Some farmers who planted the Tetraphila variety (traditional crop) might have to wait until September when the weather will have become hot otherwise the Varentus (grafted) variety has started to show signs of readiness to start flowering," he said.
Mukundi said out of the 40,000 metric tonnes of the crop produced in the country, 10,000 is produced by farmers in Embu County. He processes about 7,000 metric tonnes while 3,000 go to the other processors in the area.
In Meru, Kitheu Macadamia Farmers Association regretted that although the crop had flowered, they were losing it due to the prevailing dry spell.
"The plant requires a lot of water during the flowering and nut formation stages," said the association's secretary James Karau.
Farmers sell a kilogramme of the produce for up to Sh200, but the prices can be as low as Sh45 per kilogramme due to market influence by brokers and middlemen.