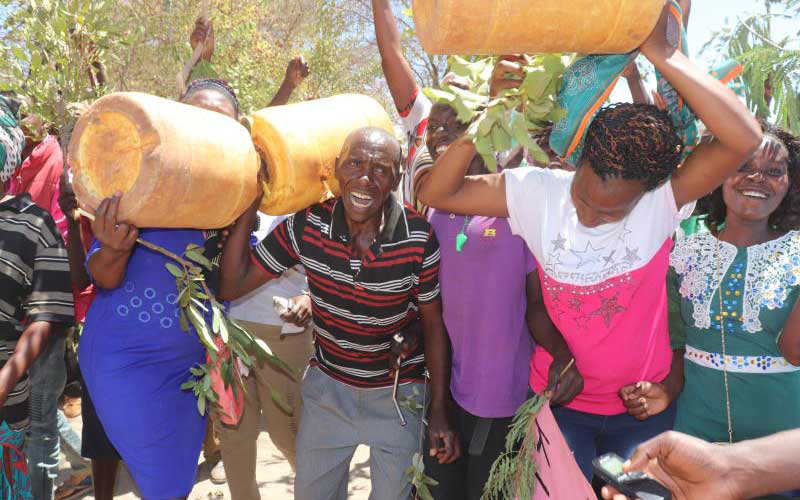 Residents of Makima ward in Embu held a day-long demonstration to protest the refusal by Tana and Athi Rivers Development Authority (Tarda) to grant way-leave for laying water pipes on its land. Early this year, the County Government and the Kenya Electricity Generating Company (KenGen), partnered in a Sh124 million project to channel water from Seven Forks Dam and pipe it to residents of Makima, Mbondoni and Gategi, among other semi-arid areas of Mbeere South.
Allocated Sh66m
Embu County Government has already allocated Sh66 million in its 2018/19 financial year budget for the project, while KenGen provided Sh58 million.
SEE ALSO: Covid-19: Kenya records 688 new cases in last 24 hours
Digging of trenches to lay water pipes from Masinga Dam has commenced and had covered more than 20km before Tarda halted it, arguing that it was not consulted to grant way-leave. The demonstration started at Mbondoni market and ended at Masinga Dam Resort, where Tarda has an office. The residents, some walking more than 50km, demanded to be addressed by Tarda officials and told why it should be an obstacle to the first solution to their water problems since independence. Led by Makima MCA Philip Nzangi, the residents, who carried water containers and banners castigating Tarda, camped at the office for hours as police kept watch to prevent damage of property. Some of the officers were from Mbondoni Police Post, and confessed to the media that they also faced water challenges.
SEE ALSO: Hope for Embu coffee farmers as Munya mulls Sh135m debt waiver
"I settled in Mbondoni in 1964 and we have never had any water project. We walk over 20km to fetch water from the crocodiles and hippo-infested Masinga dam. Our people have lost their lives to attacks by these animals while fetching water. We are very bitter that just after a solution has been found, Tarda has come in its way," said 85-year-old John Muithya who was among the demonstrators. William Muoki and Agatha Mutua said thousands of residents were hopeful that the water problem, which even affected learning in schools, was about to end, only for Tarda to disappoint them. Nzangi accused Tarda of failing to create a cordial relationship with the local community instead of making life hard for them. "The money for the project was provided by a county government and KenGen, a Government agency. When Tarda blocks the project; that means the Government is in a fight with itself. We will not agree to suffer anymore," said Nzangi.
To be pumped
SEE ALSO: Coffee farmers reap big as new factory adds value to harvest
He said water from the dam was to be pumped up to Ndune market, after which it would flow through gravity to residents. Tarda's regional senior security officer Maurice Omollo said the contractor installing the water pipes did not consult the agency to ensure the project did not have adverse impacts, such as bursting of the dam. "Tarda has always been friendly to the communities where it operates. Tarda has not denied the residents water. We appreciate water is a basic commodity to human beings and want the locals to get supplied with water. We want those implementing the project to involve Tarda so that our surveyors can approve the site or provide another one," said Mr Omollo. The residents also faulted Tarda for denying them opportunity to cultivate crops through irrigation near Masinga Dam.