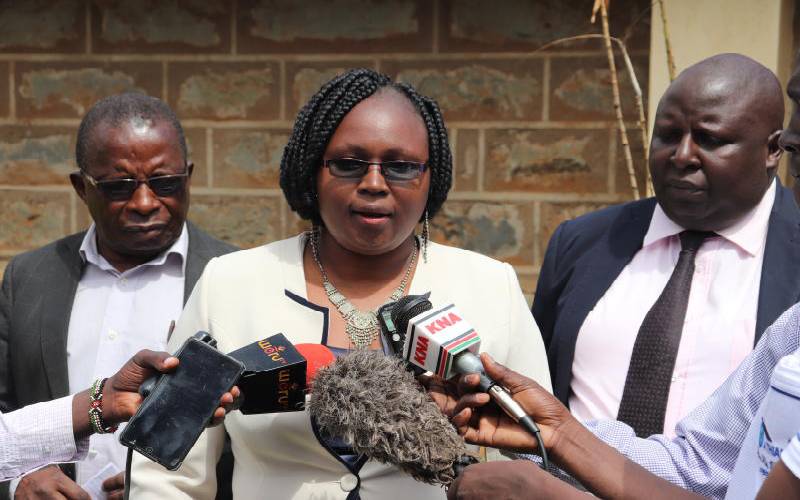 Embu Water and Sanitation Company (Ewasco) wants the Judiciary to hand stiffer sentences to culprits of water theft in a bid to arrest water losses.
Managing Director Hamilton Karugendo said the company was incurring losses of about Sh8 million annually due to the theft of the treated water it supplies to its consumers.
He said the thieves make illegal connections or remove meters to evade charges for water consumed.
Karugendo said the company is unable to effectively supply drinking water to consumers on the lower side of the county due to illegal connections and water theft.
He said the firm has managed to arrest several people and had them arraigned, but the courts have been very lenient with suspects hence they have gone back to stealing water.
Read More
"You have a case where someone used water worth Sh100,000 but is slapped with a paltry fine of Sh5,000. What will prevent such a person from stealing the water again? The court should consider the company and residents' welfare and impose serious fines to act as a deterrent to others," he said, adding that the law provides for fines of even Sh2 million.
Karugendoi spoke while briefing the media on the upcoming Water Companies Sports Organisation (Wasco) games slated Embu County from 20th -24th next month.
He said the loss of non-revenue water is one of the biggest hurdles water companies face, with Embu county losing four jerricans for every 10 jerricans of water the company treats.
"We lose about 43.7 per cent of treated water with the bulk of it through theft especially in miraa growing areas of Kiritiri, Muchonoke and Gachoka," he said.
Karugendo said the company offers Sh5,000 rewards for whistle-blowers of water theft, but despite assuring confidentiality, people rarely report for fear of reprisals from the thieves.
He said the company recently disconnected more than 200 illegal meters belonging to suspected water thieves.
Nationally, he noted, the water loss is estimated at Sh7 billion, which if reduced just by half could have about Sh3.5 billion re-invested back into the industry to improve service delivery.
On Wasco games, which range from the track, field and indoor events, organising committee chairman Dickson Njiru said all systems were in place with venues being chosen as well as security and accommodation arrangements
He said the hospitality industry in Embu and neighbouring areas will get a boom.
Wasco National General Secretary Mary Ndwiga said the participating water companies will have an opportunity to benchmark and share ideas, which they can apply to improve service delivery to clients.
The games also aim at sensitising the public on non-revenue water.