The incredible inspiring story of two Makueni mentally challenged twins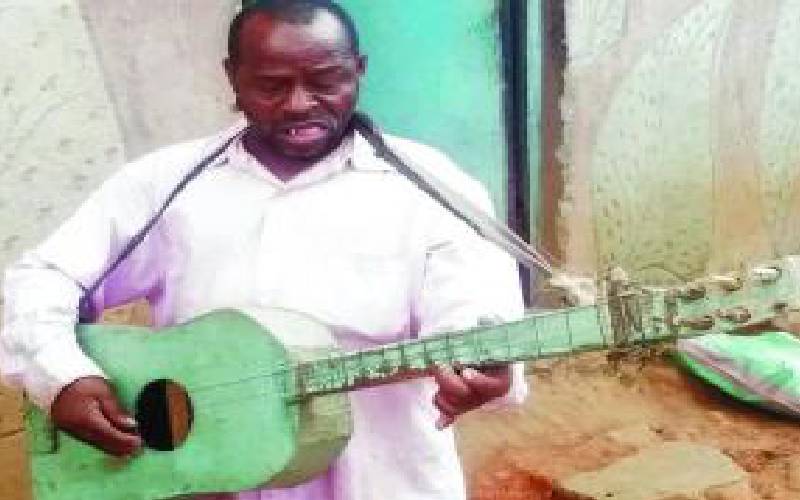 For five decades, Nguta Kitonga and Mbatha Kitonga, mentally disadvantaged twin brothers, roamed streets of Wote town. That was until last Sunday when Nguta suddenly passed on, leaving Mbatha on his own and redrawing the town's attention to their plight.
The two stuck together all through, crossing roads together, holding hands, playing guitar, begging jointly and often insisting on equal share.
Ms Museny'a Mutua, a mother of five, who has known the duo since the 1970s narrates how she was enthused by the loving bond the two exhibited.
"The two brothers moved to Wote town around 48 years ago and that is the time I set eyes on them first. That time, Wote which is now a business hub had about five shops and the rest was a thick bush. As a mother, I was touched by the amazing relationship they had; I vowed to monitor and assist them throughout their life since I never saw their parents," said Mutua.
Their journey started at a Catholic mission centre located where St Catherine Primary School is situated at the peripherals of Wote town.
In their early 20s they used to be housed, fed and provided with other basic needs before moving from the hands of the Catholic missionaries where they landed assistance from World Vision Kenya.
Mutua said they used to stay at the then non-governmental organisation's buildings located near Westland's estate.
"They were taken in by World Vision that had come to provide hope and assistance to children and communities. Here, unable to stay on their own, they were given a temporal mabati-build room at the organisation's compound where they would get any assistance they wanted," she said.
When this global evangelical humanitarian aid organisation moved out of the buildings, vandals posed insecurity, making the brothers move. In 2016, through a women group, Iveti Ndiwa self-help group, they got a house to reside in.
Shopping bag
The two would depend on well-wishers for food and dressing where they moved at specific food joints with a shopping bag.
"They had a routine timetable. After waking up they would take tea prepared by a neighbour, then go straight to certain hotel joints for lunch, before proceeding to Shimo estate at a certain church. Later they took supper around 3pm and proceed straight to their house to take a basin, go and bath in River Kaiti," she said of their strictly followed daily programme.
An earlier attempt by some quarters to convince them to walk down the aisle was reportedly quelled with petting of stones. They never wished to marry and such trials would often be met with abrasion.
Setting eyes
Their walking pace has been slow and calculated - one and none would even move an inch without setting his eyes on the other.
Things are now complicated, after the demise of Nguta; nobody has been able to know how to communicate his whereabouts to his twin brother. The two have never been to a burial, and don't know of death.
According to Caroline Mulonzya, a hawker and a close-ally to the brothers, they have been forced to tell Mbatha that his brother was taken to a Machakos Hospital for treatment.
The loss of his brother has been evident through his actions since he has been returning to the house early than usual, hoping to meet him.
The two had an untapped talent of singing gospel songs and playing the guitar with a special message of death, judgment and the final destiny of humankind.
When we visited him (Mbatha) in their house, we found it locked. When he came and opened we were stunned by a well-decorated room with a clicking wall clock and he warmly welcomed us though in low tones.
Equipped with a guitar on one shoulder, he started playing his favourite gospel song: Yesu evakuvi kwa ala atangiiye translated as the coming of Jesus Christ is around the corner for the saved ones. He was ready to prepare supper as he waited for the return of his brother. Neighbours said the twins have lived their life without identity cards.
The Sunday Standard learnt that a group of Kamba elders had been called in to perform some cultural rituals during the burial to prevent death from striking the remaining brother.
"According to Kamba traditions, when a twin dies we have to perform some rituals failure to which the remaining one dies soon," said Mutua.
Nguta was buried yesterday at their uncle's home in Miwani, Wote.