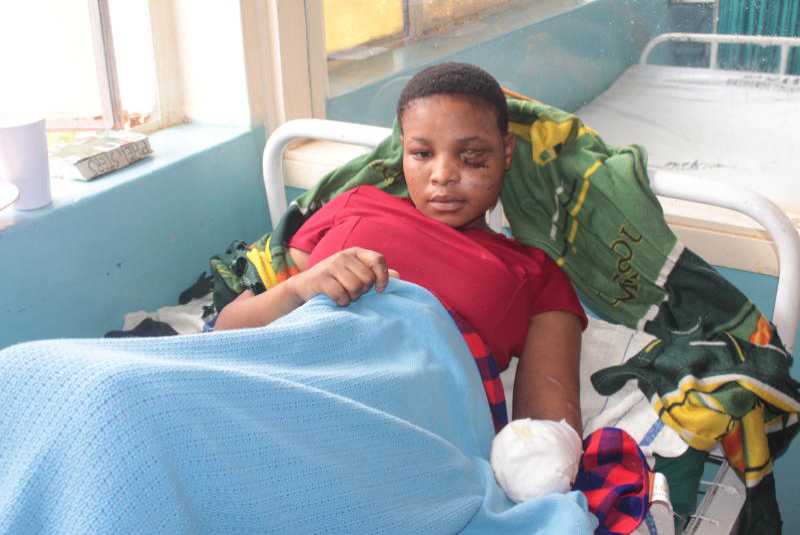 A woman who was mauled by a wild animal after being thrown out of a truck has pleaded with police to help track down the crew. Irene Mbithe was mauled on the night of July 30 after she was thrown out of the truck next to Tsavo National Park. She said the truck crew that had offered her a lift from Mombasa was attempting to rape her when they noticed a police road block ahead. The three men then threw her out into the darkness - in a wildlife-infested stretch of the Mombasa-Nairobi highway.
SEE ALSO: Kenyans' loud silence is fuelling police brutality
Mbithe lost her left arm and eye after she was attacked by a wild animal before police came to her rescue, attracted by her screams. "There was a police roadblock about 100m from where they kicked me out of the vehicle. The wild animal attacked me as I ran towards it. I think the officers at the roadblock can easily identify the vehicle," she said, adding that she owed her life to the police officers at the roadblock who rescued her and called Kenya Wildlife Service wardens to take her to hospital. But she now wants the police officers to help identify the three men who assaulted her before abandoning her in the bush. She described the three attackers, who had offered her a ride to the Machakos turn-off from Mombasa, as two young men and an elderly one. She said the man who offered her a lift spoke the Kamba language and told her he came from Mtito Andei. "I trusted the young man because I heard him speak my mother tongue," she recounted.
SEE ALSO: Nigerian lawyers fight back against police brutality, graft
"He introduced me to another truck driver who spoke Kiswahili with a rich coastal accent. I trusted them before we started the night journey from Mombasa," she said. Mbithe described the driver as a dark-skinned man in his late 40s who wore maroon shorts and a black shirt. With them was another man in his 20s, of Somali descent, who spoke very little. Kibwezi OCPD Ben Changulo said it would be difficult to identify the offenders because the details of the truck were not available.
Truck's identity
"We are unable to trace the specific truck that offered her a lift," he said, adding that the police were hoping that Mbithe would identity the vehicle.
SEE ALSO: Remove corrupt officers from the Judiciary
"We hoped she would tell us the company owning the vehicle or at least its number plate once she is in a condition to be interviewed," said Mr Chagulo. "The Mombasa-Nairobi highway is a busy road that has thousands of vehicles. It is up to the victim to give us clues on the specific vehicle." However, Mbithe's father, Felix Mulwa contradicted Mbithe's story, saying she had accompanied her boyfriend to Mombasa before they disagreed and she had to find her way back to Machakos. "That is how she found herself in the hands of those heartless men," he said. Mbithe is recuperating at the Machakos Level 5 Referral Hospital. A nurse at the hospital, said Irene had so far undergone several reconstructive surgeries and was out of danger.