Police officers impound bhang valued at Sh5 million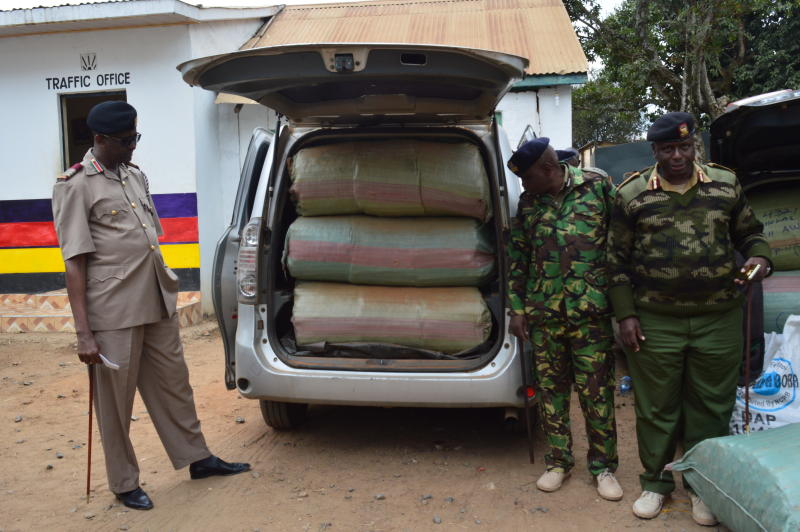 Officers yesterday impounded bhang valued at Sh5 million along Mombasa-Nairobi highway.
The bhang (right) from Tanzania was being transported to Mombasa.
The officers said they received a tip off and lay a trap along the busy highway.
Speaking yesterday at Sultan Hamud patrol base, Makueni County Commissioner Maalim Mohammed said a driver abandoned one of the cars at Ndii in Taita Taveta County after police chase.
"The illicit drug was stocked in two vehicles... Police got a tip off and chased the suspects, nabbing two of them before the third one escaped arrest at Ndii, Taita Taveta," said Mr Mohammed.
The two suspects were locked up at Makueni Police Station and were later transferred to Sultan Hamud Police Station.
Meanwhile, a primary school teacher from Kikumbulyu North has gone into hiding after he was accused of defiling a Standard Eight pupil.
The police say they have launched a manhunt for the teacher.
The pupil was reportedly defiled last week.
Angry parents on Monday stormed the school baying for the teacher's blood but did not find him.
OCPD Ben Chagulo said a medical examination at Kibwezi sub-county hospital proved the girl had been defiled.
Kibwezi sub-county Education Director Kennedy Machora warned teachers against such behaviour, and called on the teacher to present himself to the nearest police station.