Locals' uproar over landmark tower pulled down for road expansion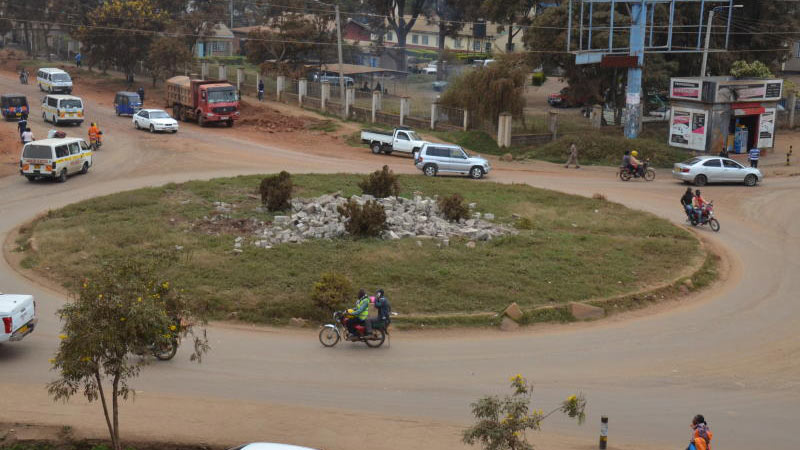 For 61 straight years, a towering landmark stood upright at the heart of Kenya's first administrative capital, Machakos.
A clock tower bearing historical inscriptions mounted seven years before Kenya's independence served as a heritage obelisk with sentimental value for locals who understood the town's history.
What remains of the iconic monument are debris scattered at the town's main round-about on Syokimau Road, thanks to an ongoing road expansion.
The pulling down of the historic clock tower by a Chinese company constructing the 72-kilometre Kangundo-Machakos-Konza Techno City road has irked local lovers of heritage.
Historical records indicate the clock tower was erected to mark the visit of Her Royal Highness Princess Margaret on October 22, 1956 by then Machakos Township Authority.
Generous donation
It was done through the generous donation of Jan Mohammed, who was later named an assistant minister by President Jomo Kenyatta.
Mzee Peter Musembi, 87, a resident in the town's Mjini settlement scheme says the clock tower marked the 'official gateway' to Ukambani region.
"The structure served as both physical and psychological signage that one had entered Ukambani," Musembi told Saturday Standard.
Ali Mumina, a veteran journalist, said the pulling down of the clock tower was one of the biggest blunders committed by the current administration.
The tower's disappearance also appeared to invite criticism and anger from residents who took to social media to condemn its demolition.
"The iconic clock tower which had defined Machakos town for nearly 70 years is gone. How is this even legal," Mutheu Kasanga charged in a Facebook post.
"The County Government should have petitioned for the preservation of the monument," Meshack, another Facebook user replied.
"The road design should have been adjusted to avoid demolishing it. Nobody knows the whereabouts of the plaque. Vandals could have sold it as scrap."