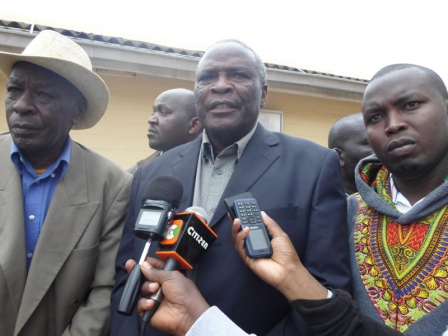 The family of a man whose body was discovered in a thicket wants the Government to ensure justice is served.
The plea was made Thursday by Julius Omariba, the father of the late former nurse Job Nabuya Omariba, whose body was found last week in Salama, Makueni County.
Thursday, Mr Omariba led family members to Machakos level 5 Hospital Mortuary, where a postmortem was conducted on his son's body before it was transferred to Hema Hospital Mortuary in Kisii County.
A report released by a government pathologist in Machakos indicated Nabuya was strangled to death.
Read More
Speaking to journalists, the family asked the Government to ensure that all avenues are exhausted in the ongoing investigations into the abduction and killing of the 27-year-old father of one.
The family also wants the Government to investigate the motive behind the killing, and how the murder was planned and executed. By the time he was killed, Nabuya was running a meat business in Meru town.
"We want the Government to get to the bottom of this matter because it is clear that all key suspects directly linked to the heinous crime have been arrested," said Omariba.
According to family members, the late Nabuya left his residence in Meru for Nairobi on August 21 where he was to meet a friend who had offered to assist him buy a car.
"He telephoned his wife the same day at around 5pm to say he had arrived safely in Nairobi. That is the last day he spoke to family," said Nabuya's father.
A family source said investigators believe a woman identified only as Purity was the first person Nabuya met when he arrived in Nairobi.
Nabuya's mobile phone reportedly went off until the following day when his body was discovered at Salama along Mombasa Road.
Sh20,000 was withdrawn from his Equity Bank account on August 23, a day after his body was found and a further Sh13,500 the day after at 1.40am, according to Nabuya's elder brother.
Police are holding three police officers, a woman and a taxi driver in connection with the murder.