Nothing can adequately pay for the lives of our children
EASTERN
By Joe Ombuor | Mar 13th 2016 | 7 min read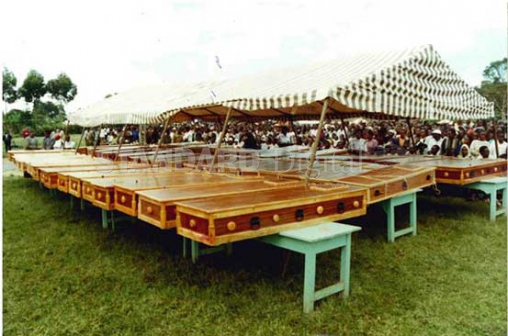 It has been 15 years, but nothing can erase the memories. Not even the millions of shillings in compensation.
In fact, parents and staff at Kyanguli Secondary School in Machakos County still recall the dark March 26, 2001 when 67 students died in a horrific dormitory fire.
The parents are ploughing through life against all odds, determined never to give up. Six have since died.
The Sh41 million awarded by the High Court in Nairobi last week will, according to the bereaved parents' association chairman Benjamin Mutune "help oil the wheel of life for the affected families."
"Nothing can adequately pay for the lives of our children, but the money is welcome for the families of those who have died. We appreciate," says Mr Mutune, who lost his second-born child Lazarus, then in Form Four.
"He was burnt beyond recognition and is among those buried at the mass grave in the school," he recalls. "His mother is a teacher."
He adds: "I have grown even stronger in my pastoral ministry and my secular work as a farmer, growing vegetables and other crops by irrigation alongside cattle rearing. The compensation will help us do something to remember our beloved Lazarus and invest some in the farm."
For Patrick Kisilu Wambua, 75, a retired teacher from Vyulya, Masii location, the death of two sons brought untold misery to him and his wife Francisca Nduko. He went blind due to complications of high blood pressure and diabetes after the tragedy.
Says Ms Nduko, her voice a load of grief: "Nicholas Ngunze was in Form Four and his brother Paul Katua in Form Two. They were our beacon of hope and the pillars of our lives although we have six other children. Mzee's health dipped almost immediately and he has never recovered."
Lost his sight
"I was a teacher. His condition forced me to retire to look after him. Family livelihood tumbled and we live from hand to mouth as peasant farmers," she narrates, tears welling in her eyes.
In retrospect, she says of her husband: "Perhaps Mzee would not have lost his sight so fast had this money arrived earlier. Perhaps he would still be walking on his own. When it comes, I will do something to play the dual role of reminding us about the two gems we lost so prematurely and generating income. Some of it will definitely go to improving Mzee's quality of life through medication and good feeding. The money has come late, but we are grateful to God and all those who struggled to make sure we received some relief."
In the cool and fertile Mua Hills north of Machakos town, Jonathan Nzau Nzuki and his wife, Eunice Nzilani Nzau practise maize, cattle and chicken farming assisted by their son Simeon Kasivu Nzau, 30, who miraculously escaped the Kyanguli killer flames. They were among parents lucky to bury their sons.
Says Nzau pointing at his son's grave: "His remains lie down here, next to where we last sat with him only hours to his death. We planted that lavish shrub the day he was buried. It was given to us at the school during the mass burial. It has no Kamba name and we did not know that it would survive to grow this big."
"We thank God for saving Simeon's life. He was in Form Two at the time, the same class as his brother Stephen Musau Nzau. We would have lost both of them had God not intervened. He is such an asset to us and our farming endeavour, having studied general agriculture which included veterinary science."
Simeon holds a diploma in general agriculture from Meru University College of Science and Technology. He graduated in 2011, but for lack of a job, returned home to assist his parents and offer veterinary services to the community.
"Fate saved me through my late brother," recounts Simeon, now married and blessed with a year-old son. I was leaving the school for a haircut at nearby Mutituni market when he informed me about a football match at Ngomeni Secondary School in the neighbourhood. A power blackout at Mutituni denied me the haircut and I proceeded to watch the match.
Instead of returning to school, Simeon who had an ear problem opted to go home to seek treatment the following day.
"My parents were furious and wanted to know where I was coming from. They informed me that my brother had been there and had returned to school. It was a Saturday and the tragedy happened in the wee hours of Sunday morning. My brother sustained severe burns and the school listed me among the dead because I could not be traced. He died a week later in hospital."
Simeon was transferred to Muvuti Secondary School where he sat his Kenya Certificate of Secondary Education in 2003.
Mr Nzau says they plan to construct a memorial, preferably a school to be reminding them of their son.
"We hope to improve our farming when the money comes and use some of it on my treatment for high blood pressure, a condition I have lived with since the tragedy. A certain percentage will definitely go to God in appreciation," says Mr Nzau.
Ground has shifted
Elizabeth Muasya was a nursery school teacher when her last born son, Nicholas Makau Muasya in Form Two, was burnt beyond recognition in the Kyanguli fire. She has since retired and started a nursery school, a short distance away from her home in Ngelani village.
What will she do with the money? With a chuckle, she says: "I will expand my school as I am sure my son would have helped me do if he had lived. That will serve as an honour to him.
"I have a beautiful granddaughter from his sister. Some of the money will help educate her. I cannot forget God who is the force behind all these happenings. I will spare a share for Him."
Lessa Paul Munguti, a mother of four, runs a shop at Kavetee market next to her home since the death of her first born son, Sylvester Mutua a Form Two student.
"We had started building this shop and the agony would have obliterated it if we were not strong in God. You can see how scanty it is in stocks. The money when it comes will certainly help with the stocking. I am on medication for high blood pressure since his death. Part of the money will go to my treatment."
"We buried Sylvester here at home after he died of severe burns in hospital. We are grateful to God to have spared his body even as he took away his soul for a repose in heaven. We shall buy a farm to keep reminding us of him when the money comes," she says.
At the school located near Mutituni market on Kangundo Road about 20km from Machakos town, Principal Jeremiah Kyalo Ndumai goes about his supervisory chores, as though unaware that the ground has shifted since the events of March 26, 2001.
It is three years since he took the reins at the aptly renamed Kyanguli Memorial Secondary School.
"Go to the District Education Officer if you want information about this school," he grunted when courtesy took us to his office.
But time has left its inevitable impression, as seen in the high spirits of the boys and girls whetting their brains unperturbed by the presence close by of 58 colleagues watching mutely from six mass graves. The school had to be temporarily closed as traumatised students were transferred to other institutions following the disaster.
Not much attention
Nine victims who could be identified were buried at different locations by their families.
The yard where former President Moi accompanied by the cream of his government presided over the mass burial on April 4, 2001 is staggeringly bushy and the slabs on the graves are peeling, signs that not much attention and resources have been spared for its maintenance.
Remarkably, a colony of bees hover menacingly under a roof built over concrete slabs inscribed with names of the victims. Workers say efforts to clear the bees have proved futile, as the insects keep returning.
Just outside the gate of the graveyard is a healthy maize crop and next to it, a greenhouse. Both are tended by students and stand out as clear emblems that the learners have moved on.
The site of the dormitory of death is covered in firewood that is used to prepare meals. Also on the site is compost manure for the crops.
Gone at the dormitories currently in use, are metal grills at the windows blamed for most of the deaths. The iron doors are wide with only steel latches to secure them from inside, a shift from the past when narrow wooded doors bore real locks. Fire extinguishers are within easy reach for eventualities and water is aplenty from a borehole on the school compound.
"Surely, Kyanguli has moved on," says Jonathan Mwanza Mutua, an artisan at the school since 1986 who has seen the modifications unfold.
Clean sweep in Cameroon
The Kenyan national anthem was played eight times in Yaounde, Cameroon yesterday to celebrate her athletes who took all the individual and team gold medals on offer at the fourth CAA Africa Cross Country Champions in a mighty show of total dominance.