Let us help Ethiopia to wake up and walk away from nightmare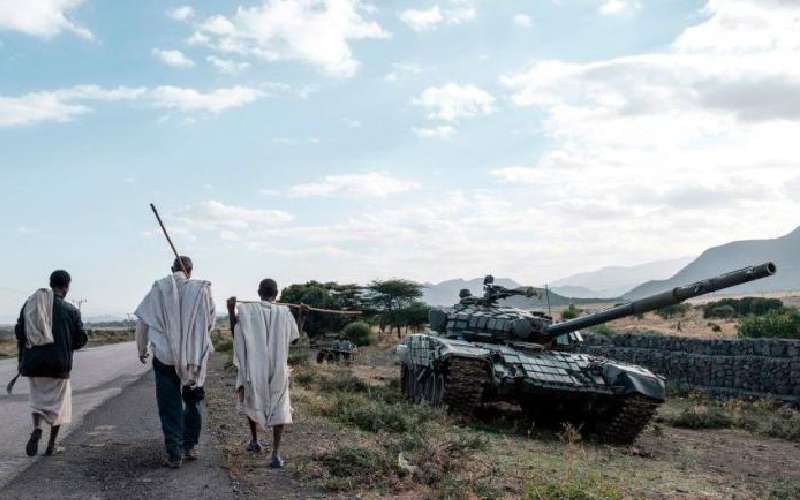 Author and journalist MF Moonzajer talked of how you can have dreams when your neighbours have nightmares. But perhaps the more important thing is to turn Moonzajer's statement into a probing question, "How can you have dreams while your neighbours have nightmares?"
For Kenya, this seems to be a never-ending question that we have had to confront every so often. It would appear that the nightmares of our neighbours are a vicious cycle that consistently demand the interruption of our dreams. Though we seem to be crafting our own nightmare, a new one seems to be growing in neighbouring Ethiopia through the ongoing crisis in the Tigray region.
When Abiy Ahmed became the Ethiopian Prime Minister in April 2018, he hit the ground running. In less than two years, he helped end a 20-year war between his country and Eritrea, and also brokered a power-sharing deal in Sudan. This stroke of wisdom thrust the new and young premier into the global arena of distinguished leaders.
Within a brief 18 months, he was conferred the coveted Nobel Peace Prize. As the Norwegian Nobel Committee said of the award, Abiy's efforts truly deserved recognition and needed encouragement. Abiy had demonstrated a rare breed of leadership. He had shown that with courage and wit, the challenges of today can be tackled efficiently and effectively. As we observed in this space then, this was certainly befitting and worthy of praise.
Unfortunately, no sooner had the award been presented than the curse of Africa–politics of ethnicity–struck at the heart of Abiy's leadership. The Tigray–the tribe that had held leadership for several decades–accused Abiy of excluding the ethnically-based regions of Ethiopia from his government in a bid to consolidate power.
All-out war
Though Abiy had made efforts to form a new national party from across the region, the Tigray People's Liberation Front (TPLF) refused to join. Instead they retreated to the Tigray region and launched an all-out war against the government. Since then, there has been a districted war in the Tigray region, between TPLF and government forces. Thousands have been displaced and many killed–almost wiping out all the accolades that Abiy had enjoyed.
What is sad is that this has come at a time when Ethiopia was in an unusual growth trajectory. In a 2015 economic report, Ethiopia was declared the world's fastest-growing economy. Indeed, the country's economy had been consistently growing by double digits for over 10 years.
Unfortunately, this is projected to fall to about two per cent by close of 2021. While this may be due to several factors such as Covid-19, some analysts believe that the economy has been especially gnawed by the impact of the war. Thus Ethiopia's dreams are quickly degenerating into nightmares.
From the look of things, the Tigray crisis may not die a natural death. The forces behind the war do not seem eager to end it soon. Thus as the government digs in with radical demands, there is an urgent need for intervention at various levels.
The recent appointment of former Nigerian President Olusegun Obasanjo to lead the mediation process is a herculean task. The former Nigerian leader brings rich political experience and impeccable credentials of keen commitment to the lofty ideals of Pan-Africanism, regional integration and cooperation, as well as deep knowledge of the current situation in the Horn of Africa.
Whereas Kenya may be among those that might rejoice at Ethiopia's downfall–for the competition it has posed both on track and on field–we cannot afford to lose Ethiopia. The landlocked nation is a major business partner, with whom we are almost naturally co-joined at the hip.
Thus, it is in our special interest to have a more stable Ethiopia–perhaps more like a bigger brother. We need to be intentional in our deliberations and positive in our interventions. This may not be easy, especially considering the many competing interests that may be at play regionally and nationally. Yet the truth remains that we cannot enjoy sweet dreams while our neighbours have nightmares.