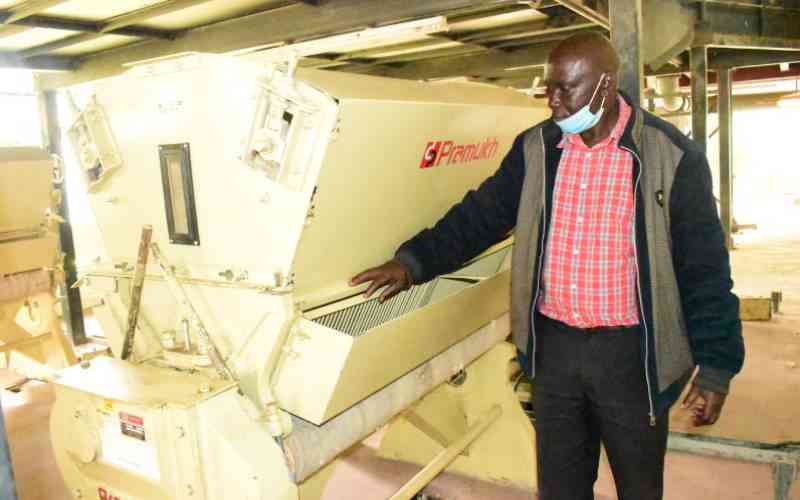 As the debate on mitumba clothes rages on, all eyes are on cotton farmers. Smart Harvest toured Busia County which has the largest acreage under cotton farming in Kenya and got testimonials from farmers on state of affairs.
Donald Ojiambo, a farmers from Sigwata village in Matayos sub-county says it is tough being a cotton farmer these days because of the many challenges they are facing. He says unlike before when farmers received free certified seeds, fertiliser and pesticides, things are different this year.
"Besides, erratic rain has interfered with land preparation in readiness for planting of cotton. Usually, we plant the crop end of May or early June," says Ojiambo who has spared one and half acre parcel for cotton farming.
"I received 86 kilogrammes of seeds which gave me 946 kilogrammes after four months translating to Sh47,000 after selling each kilogramme at Sh50," he says.
Ojiambo is among over 2,000 farmers affiliated to Mulwanda Cotton Farmers Co-operative Union (MCFCU). The cooperative brings together seven cooperative societies namely; Matayos, Busia, Bugiri, Bwari, Namasari, Olima and Bunyala.
Vincent Egesa, the immediate former chairman of Mulwanda Cotton Farmers Co-operative Union says they were ready to embark on planting immediately it starts raining.
"We received one tonne of certified hybrid and BT cotton seeds from Thika Textile Millers recently which we intend to distribute to farmers. However, they are not enough and we may need additional three tonnes," Egesa tells Smart Harvest.
One tonne of hybrid or BT cotton seeds cost Sh3,000, meaning the farmers could have paid Sh3 million for the seeds.
According to Egesa, Agriculture and Food Authroity (AFA) has pledged to give out more seeds as was the case in 2020. "We also expect extra seeds from Thika Textile Millers but both have not indicated the quantity they will give us," says the official.
So far, 700 acres of land are available for planting of cotton this season in Busia. "Farmers have between one to 10 acres of land spared for cotton farming. With the new seed varieties, we expect them to get between 800 – 1,000 tonnes of cotton per acre under good management," says Egesa.
Initially, farmers used to rely heavily on the traditional KCA81M cotton seed variety which according to the farmers could take at least six months to mature.
"This variety had low yields and susceptible to diseases and pests especially bollworm. Fortunately, the government through AFA introduced BT cotton and hybrid varieties two years ago and farmers liked them because they are early maturing, high yielding and resistant to pests and diseases," explains Egesa who was recently elected Treasurer of Mulwanda Cotton Farmers Cooperative Union.
"To meet the demand of farmers, we need more seeds and Sh10 million for hiring at least seven people who will operate the ginnery and another 200 workers including a manager and other employees," says Egesa.
According to Egesa 1 stem of BT or hybrid cotton variety yields between 100 and 150 balls compared to the KCA81M variety.
"A farmer is guaranteed between 1,000 and 1,500 kilogrammes of cotton per acre which translate to Sh75,000 in just four months."
In 2020, Mulwanda ginnery bought between 1,000 and 1,500 tonnes of cotton from farmers and sold the same to Rift Valley textiles "because our ginnery was not working. We got Sh2 commission per kilogramme as a union," says the official.
Everlyne Okelo, a cotton farmer from Bunyala says they fear planting could be a problem like was the case in 2021 when the Government failed to supply farmers with seeds, fertiliser and pesticides as earlier promised.
"The union has brought this issue to the attention of assistant commissioner of cooperatives Mr Samuel Kiptoo who has promised to intervene so that the union can be allowed to borrow extra funds to facilitate operations of the ginnery and procurement of farm inputs," says Egesa.
"All we need is to be given borrowing powers by the Government to enable us borrow the funds from Cooperative Bank. The union delegates are ready to approve it."
The Government injected Sh64 million into revival of Mulwanda Cotton mill that went under 20 years ago when the textile industry was liberalised according to the farmers.
Engineers from India installed new machines worth Sh34 million at the ginnery with capacity to process at least 24 bells of cotton per day. Each bell is equivalent to 200 kilogrammes.
Busia County government erected a chain link wire fence around the factory at a cost of Sh4.8 million.
On availability of the market, the union disclosed that they have signed an agreement with Thika Textile Mills to buy lint (processed cotton) and cotton seeds from Mulwanda ginnery.
"We shall sell them lint at Sh230 per kilogramme and seeds at Sh40 per kilogramme. We also plan to diversify into manufacturing of cooking oil, animal feeds and soap immediately we embark on cotton processing," says Egesa.
Currently, the union has intensified sensitisation campaign targeting farmers in order to expand acreage under the crop.
"We would like to go back where cotton farming was in the 1970s to early 1990s. Our parents invested a lot in the cash crop then, unfortunately the industry was brought down to its knees," says Ojiambo.
The farmers have urged politicians to keep off cotton farming.
"...they will discourage farmers and cause them to abandon the crop again. Let them leave the union to manage the affairs of the ginnery and the farmers," advices Egesa.