TV anchor gives the 'naked truth' - by presenting bulletins 'bra-less'
CRAZY WORLD
By Mirror | March 4th 2016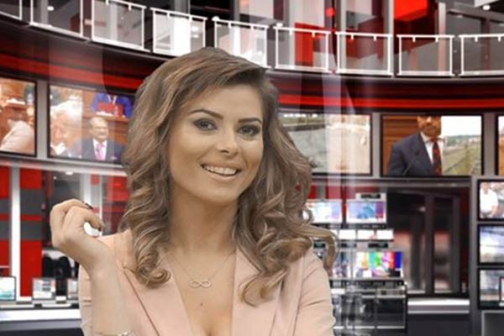 Albanian news reader Greta Hoxha makes some headlines of her own, by presenting her bulletin bra-less with only a nude coloured blazer protecting her modesty.
Hoxha, 24, is a presenter for TV station Fire TV, which caused a media storm when it took the decision to have near topless women host its news output.
Hoxha replaced original open-topped presenter Enki Bracaj, 21, who was fired after agreeing to pose for Playboy .
Despite treading on very thin ice by screening nearly naked women in deeply conservative Albania, station bosses could not run the risk of having an employee appearing completely topless.
Some 60 percent of the country are Muslim and 20 percent Christian.
Luckily for them Hoxha was more than happy to step in and carry on the station's risqué tradition.
She made the news herself back in November, when she chose to celebrate Liberation Day - which commemorates Albania's liberation from the Nazis in 1944 - by wearing nothing but a skimpy waistcoat decorated in the national colours.
For a recent broadcast, she opted for open nude blazer - modest by her previous standards.
On her eye-catching presenting style, Hoxha previously said: "It underlines why I love working in the media.
"We are doing something here which is original."