Man finds $100,000 in desk bought online and returns it to owner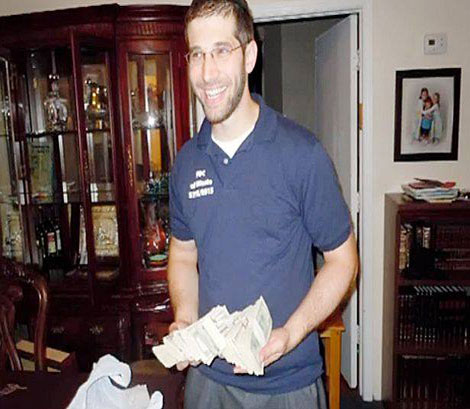 Good Samaritan Noah Muroff
Man finds $100,000 in desk bought online - and returns it to owner who FORGOT where she'd stashed inheritance

Good Samaritan Noah Muroff found the cash stuffed behind the drawers of a desk he bought on Craigslist

A bargain hunter who bought a second-hand desk for £125 online found cash totalling £62,000 in it.
Stunned US rabbi Noah Murnoff discovered the bagful of $100 notes – $98,000 in all – stuffed behind a drawer.
But he and his wife Esther quickly decided they could not keep the money and traced the seller to return it.
Rabbi Murnoff, of New Haven, Connecticut, said: "We were laughing. This kind of thing only happens in movies."
The seller was left speechless by the kind act.

She explained she had stuffed her inheritance in the desk and forgot where she put the money.
The woman, only named as Patty, later wrote to Noah, a Rabbi at Yeshiva of New Haven, Connecticut, thanking them.
She said: "I cannot thank you enough for your honesty and integrity.
"I do not think there are too many people in this world that would have done what you did by calling me. I do like to believe that there are still good people left in this crazy world we live in. You certainly are one of them."
The couple took their four children with them to return the money the next day, hoping their good deed will send "the message of honesty and integrity," he said.
Adfapted from The Metro