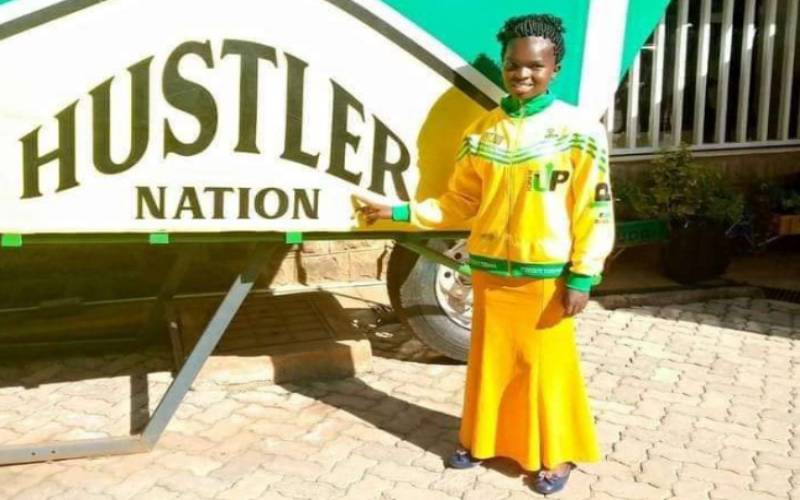 At 24 years old, Linet Chepkorir, alias Toto, could be the 13th Parliament's youngest member.
Should she go ahead and win the Bomet Woman Representative seat in the August 9, 2022 General Election, Toto would have defied all odds to rise to the top.
Toto's lead in the United Democratic Alliance (UDA) primaries for Bomet Woman Rep seat is unassailable, even as the results are yet to be officially announced.
The polls were held on Thursday, April 14.
Humble, simple and intelligent: those are the words her supporters fondly use to describe her.
At her first attempt in politics, she is on the verge of a sweet victory. And, her inevitable win is no mean achievement: she's overcome competition from 12 aspirants.
Among those who competed against Toto include Nominated MCA Cecilia Mutai, Brenda Munai, Susan Koech and Stacy Chepkemoi.
The UDA ticket frontrunner got the nickname 'Toto' because of her slender physique and youthful looks.
Last year, she expressed interest in the Bomet Woman Rep seat. Many downplayed her chances, with some saying she was engaging in publicity stunts.
On November 9, 2021 Toto was among the aspirants who were invited to Deputy President William Ruto's Karen residence for a meeting.
Due to lack of money to pull a sophisticated look, she went to the event dressed in a yellow hooded sweater, simple hairdo, a green dress and rubber shoes.
Ruto's security guards thought she'd lost her direction. For almost one hour, she pleaded with them to let her in.
It was after she produced her invitation card, that the "shocked" guards allowed her to get in.
"They treated me suspiciously, saying I appeared to have lost my way and wanted to take advantage of the high number of guests to sneak into the deputy president's residence," Toto told The Standard.
"To them, I looked poor and too young to be an elective seat aspirant."
The political newbie says she's always dreamt of a national leadership position, from her days in school.
"I was the head-girl of Kapsimbiri Primary School in Bomet. Before that, I served as the class prefect. Throughout my secondary education, I held different leadership positions," she told The Standard.
Toto, who is an alumnus of Siwot Secondary School in Longisa, Bomet, holds Bachelor's Degree in Business Administration from Chuka University. She graduated in April 2021.
Her chance meeting with DP William Ruto in 2021 saw her pose for a picture with the DP. The photograph went viral, and different people encouraged her to try her hand at politics.
"I was humbled that some people thought I'd make a good leader. The humility in the picture endeared me to them," she said.
Toto is the third born in a family of five siblings.
"Some critics, however, ruled me out, saying I was too poor to sustain a countywide political campaign.
"I have to admit I was intimidated. Campaigns require a lot of money, yet here I was; not able to even raise the Sh125,000 nomination fees," she said.
Well-wishers, however, came to her rescue after she held a fundraiser in Bomet East.
Toto will now compete against Chama Cha Mashinani's Alice Chepkorir Milgo, who was nominated to the 12th Parliament under Jubilee ticket.
"Toto is a political novice. I'm not confident in her ability to address the needs of women in Bomet County," said Milgo.
However, a section of leaders in Bomet believe Toto can surprise the residents by proving to be a competent woman representative.
Janet Rugut, a Nominated MCA, said Toto's victory in the UDA polls (if confirmed) shows that the youth can rise to top leadership positions if they unite at the ballot.
"As women, we'll rally behind her to ensure she wins the Woman Rep seat in August," said Rugut.
Toto says, if elected Bomet Women Representative, she will prioritise women empowerment programmes such as basic education, vocational training, fight against gender-based violence, economic empowerment schemes, among others.
The 24-year-old is single, and says her focus now is to serve the people of Bomet County, especially the women.
The current Bomet Woman Representative Joyce Chepkoech Korir is eyeing the Bomet Central MP seat on UDA ticket.