Jackson Mandago's political ambition sparks criticism from Oscar Sudi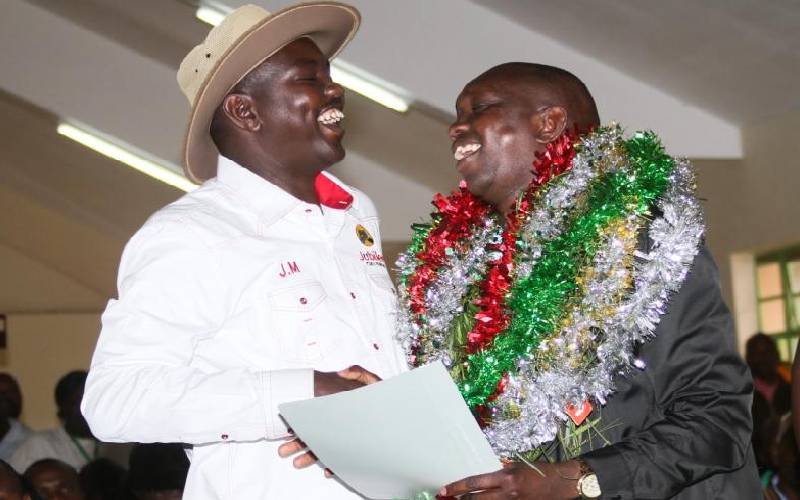 Uasin Gishu Governor Jackson Mandago's interest in running for the county's Senate seat in the 2022 General Election has sparked criticism from Kapseret MP Oscar Sudi.
Mandago will be leaving the gubernatorial seat in August 2022 after serving the maximum two-term limit.
Seeking continuity in politics, the governor said recently that he will be on the ballot paper as a senatorial candidate, a pronouncement that has drawn criticism by Sudi.
"When you are an assistant chief, you should aim to become the chief and then a district officer. Upward elevation should be your priority," Oscar Sudi told Mandago on Sunday when he attended a service at the Mararai Africa Inland Church (AIC) in Soy Sub-County.
"In Uasin Gishu, we have budding politicians who should be left to contest for the Senate seat. Mandago should be traversing the country drumming up support for [Deputy President William] Ruto, [who is eyeing the presidency], and not announcing that he's interested in the Senate position."
Sudi said should Ruto win the presidency, then Mandago would "be rewarded with a Cabinet position", particularly the Agriculture docket.
Sudi urged Uasin Gishu residents not to vote for Mandago in the senatorial race, saying "he will be a nuisance to the next governor".
"You elected Mandago when he was a greenhorn in politics. Today, he is mature politically. He knows what happens in county governments. Armed with that knowledge, he'll interfere with the county's new leadership," Sudi said.
"He's rode on our popularity for far too long. I don't understand why he is hell-bent on remaining active in county politics. He should progress to national politics."
Responding to Sudi, Mandago said his eyes were set on the Uasin Gishu Senate seat, and no amount of ridicule or coercion would make him change his mind.
"There are MPs who have not tabled any motion in Parliament, [and they're out here dictating to people what political offices they should run for]. Should I win the Uasin Gishu Senate seat, do you think I'll fail to table even one Bill that seeks to improve the lives of the people?" he posed.
Mandago said elective seats are not "awarded in boardrooms, but are won through appealing to the electorate".
"I'm certain to defeat whichever candidate that is being rooted for by Oscar Sudi and his team. I did that in 2017," said the county chief.
Mandago said he is confident his track record as governor would help him win the senatorial contest.
"People should learn to stick in their lanes," he said.
According to Mandago, Sudi and his team want to hoist a person "they can easily manipulate for their selfish interests".
"They know that I am no pushover, that's why they are opposed to my senatorial candidature," he said.