Retired chief honoured for his efforts to protect public land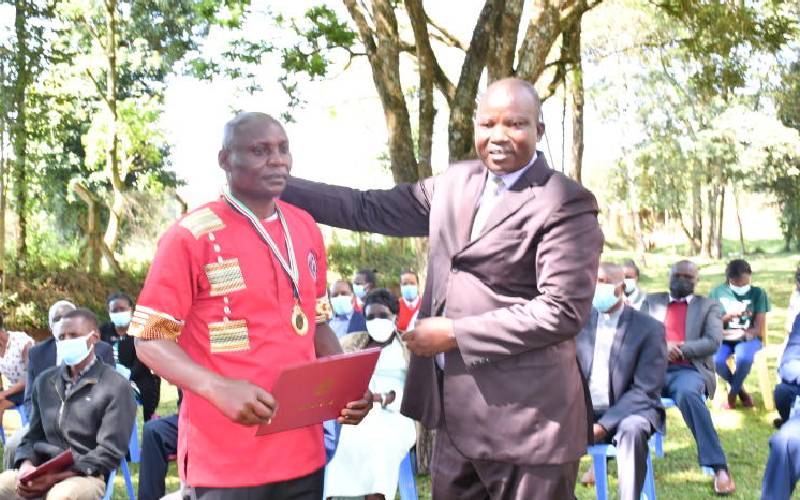 After serving for 20 years in administration, Andrew Boen retired at the beginning of this year and went back home to continue with his life away from public service.
Deep down his heart, Boen knew he had served the community diligently as the chief of Chebilat location in Nandi South.
Boen was born to Norman Chepchongei and Truphena Boen at the foot of escapements at Kapseng'ere village in 1961.
Early this month, he received a call from the county commissioner's office. To his surprise, he had been feted during the Mashujaa Day by President Uhuru Kenyatta.
Boen received the information with mixed feelings. It was puzzling to him how he was picked from a remote village for his efforts to serve the public for decades.
"I was told that I had been honoured as a hero for serving the community with integrity and valiantly fighting to reclaim public resources. I never thought that my name would be recorded somewhere in the highest offices in the land," he said.
Due to Covid-19, only 3,000 people were allowed to attend this year's Mashujaa Day celebrations in Kirinyaga County, meaning Boen couldn't attend the function.
They were, however, promised that the president's award would be delivered in due course.
On Tuesday, legendary athlete Henry Rono, Kapsabet Girls High school principal Mary Kiprop and Paralympian Eric Sang, also received the President's Medal at the Nandi County commissioner's office.
Boen's efforts to protect government land from grabbers saw him face off with some individuals for four years as they fought to take over public land in Chebilat.
He said the battle was not a walk in the park as the land grabbers saw him as their enemy after he stopped them from taking over one-acre piece of land which was earmarked for public amenities.
"I received all sorts of threats from those who had acquired the land and I hardly enjoyed peace. The land was originally registered as public land under Nandi/Chebilat No 173 by the National Land Commission. It was later returned to the community," he said.
Boen, who was once a primary school teacher, said that reclaiming the public land was a Herculean task.
He said he used his own money to attend court proceedings in Nairobi.
"I had no personal interest in the land. I was seeking justice for my community by securing their land. It was the only public land and I could not stand watching people struggle to get healthcare," he said.
Through his efforts, residents proposed the sub-division of the land into two and allocation of one parcel to the national administration, which currently houses the assistant county commissioner.
"We put up the health facility on the rest of the land for residents. This was one of the needs for the residents who for years had been travelling long distance to access health services. I led the management team in mobilising resources for the construction of the health facility," he said.
He attributed his success to the good management skills and experience he attained in his profession as a teacher after graduating from Baringo teachers college as a P1 teacher.
For eight years, Boen taught in Kaptumek, Chepsioch and Kapsakawat primary schools before he resigned and joined the then provincial administration as a chief.
"My jurisdiction covered a cosmopolitan region where Luhya, Nandi, Kipsigis and Terik communities live. It was a challenge to contain the diverse population. Public utilities like schools and health facilities were the key aspects that enhanced unity," said Boen.
He adds that he led the peace committee to resolve issues that led to cattle theft across the borders of Nandi and Vihiga counties.