With health risks and no incentives, Kibuye artisans face bleak future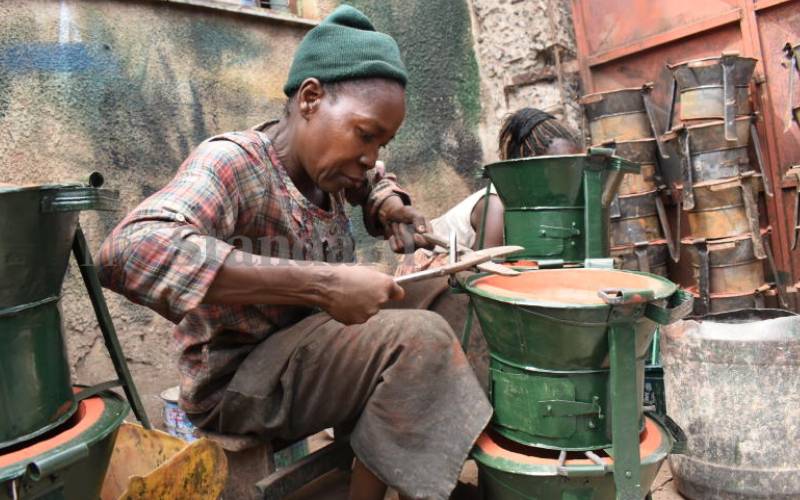 A cloud of dust and cacophony of sounds emanate from Kisumu's Kibuye market sheds.
Metres away are heaps of burning metal drums and old iron sheets, producing clouds of smoke. Makeshift sheds hide sweaty men hitting metal plates to get the desired shapes.
Fredrick Omindo, 62, has been here since 1981, and despite his stamina subsiding with age, he hopes to spend his sunset years in this trade.
His father was among the first people who began the blacksmith job at Kibuye in early 1970s. He had returned to the country from Uganda.
"My dad was escaping the civil wars during Idi Amin Dada's rule. When he came back home, he joined some of his friends to start the blacksmith job," says Omindo.
Omindo, previously a primary school teacher, resigned from the profession to venture into the jua kali business.
But despite the multi-million-shilling sector putting food on the tables of more than 10,000 Kisumu residents, Kibuye jua kali market is in a sorry state.
According to Omindo, who is the chairman of Kibuye Jua Kali Association, at least 1,500 stalls are employing close to 10,000 metalworkers.
With each stall paying Sh50 daily tax to the county government, the sector is injecting at least Sh27 million into the county coffers annually.
There are also several food vendors and other hardware businesses, which directly depend on the sector.
Efforts to transform the sector have not been fruitful despite the government focusing on manufacturing as a key economic development component.
When The Standard visited the Kibuye jua kali site, it was evident that the place is still in its primordial state.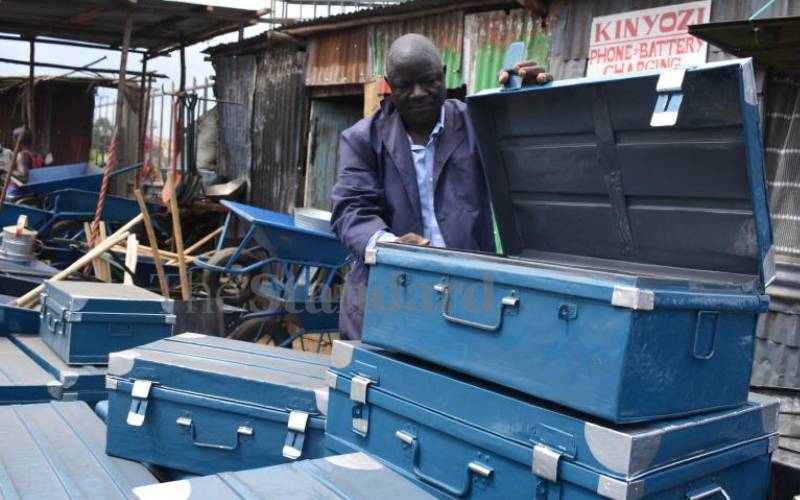 Lack of infrastructure and regulations has seen the sector players fail to maximise the benefits from the dusty site.
Today, the jua kali workers have no gazetted site and following their displacement from their five-acre space within Kibuye, many of them are now squatting along the dusty streets around the market.
Michael Asumbi moved to Kibuye in 1994 from his home in Gem Asumbi, Homa Bay County.
"My father was a blacksmith, and so I worked with him. I moved to Kisumu after a friend offered to train me. Two years later, I opened my shop, and I have been in this trade ever since," says Asumbi.
But just like Omindo, Asumbi has not seen any technological advancement or improvement of the infrastructure to support the trade.
"When we began this job, we were using hammers and mechanical metal cutters. We still use them, but we have added welding machines and electric grinders. Much of the work requires little use of machines," he says.
They also use semi-permanent structures made of old iron sheets and dust-laden floors.
A spot-check across the site reveals that a few people have protective gear to shield their ears from the loud bangs and their noses from dust and smoke. Many still handle the metals with their bare hands.
Caleb Ochieng, 39, is working on a box he would sell at Sh1,500. With no protective gear, he hits the metal plates, occasionally stopping to remove particles from his eyes.
He has done this for 20 years and, to him, it is normal. He says he has not received any training on safety.
"These are just normal occupational hazards. We have to put food on the table," he says.
According to Omindo, lack of regulation and focus to improve the trade has made the sector to stagnate.
He says attempts to save the sector in the 1990s failed due to a lack of commitment from the area leadership.
Omindo says in 1994, the World Bank had plans to support the sector.
"The World Bank was to construct a working area and train workers to modernise the trade. People were to be taken for exchange programmes in India and other places," he says.
However, things fell apart due to mismanagement of the programme, which saw non-deserving people awarded the opportunities.
The World Bank abandoned the project, marking the beginning of the collapse of the sector.
Today, the jua kali market is open, giving way to brokers who take advantage of the blacksmiths.
Tom Togo, the Kisumu County National Environment Management Authority (Nema) director, says open burning contravenes the Environmental Management and Coordination Act (Air Quality Regulations) of 2014, which provides special consideration when dealing with a matter of public health concern.
"Our office took up this matter a while back, visited the area about three times and pursued it with senior directors at the county. We were categorical that the activity is harmful to the environment, public health and property," says Togo.
"We strongly recommended relocation to a site out of town and support to the artisans through the provision of suitable infrastructure."