Kabarak to offer pioneer cancer course after deal with global body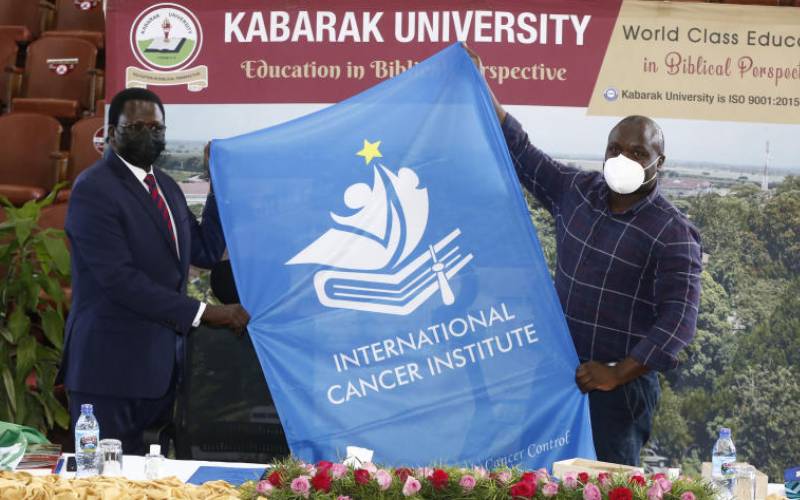 Kabarak University is set to roll out programmes in oncology pharmacy.
This comes after the institution signed a Memorandum of Understanding with the International Cancer Institute.
The move makes Kabarak University the first institution of higher learning in sub-Saharan Africa to roll out programmes in oncology pharmacy.
Kabarak University vice-chancellor Professor Henry Kiplagat said the partnership between the institution and the International Cancer Institute will see the university develop and offer specialised postgraduate programmes in oncology pharmacy as well as conduct research in oncology. "ICI offers world-class education and training in oncology, oncology research and oncology laboratory services and we are very fortunate as a University to partner with such worthy and reputable institute," Prof Kiplagat said.
Prof Kiplagat added that the partnership will be extended for the institution to offer more programmes targeted at boosting oncology services.
"With time, our partnership with ICI will be extended to offer programmes in palliative care and oncology as well as collaboration in biomedical sciences," he said.
The institution will train students not only in Kenya but across Africa in the course which will bridge the gap on cancer management in Africa.
The achievement, according to Prof Kiplagat, is part of the move to position the institution's aspiration to enroll more students in the science, technology, engineering and mathematics (STEM) courses.
International Cancer Institute CEO Prof Fredrick Chite Asirwa said that despite the rising cancer burden in Africa, there is a gap in therapeutic advances coupled with a lack of qualified professionals.
He said the partnership with Kabarak University will ensure that students are trained to be competitive to bridge the gap that has seen patients seek oncology services abroad. "By 2020, statistics indicated that Kenya had over 40,000 cancer patients and the same year, 28,000 deaths were recorded. The main challenge is the missing link in therapeutic advances.
"There are also very few qualified professionals and this partnership makes Kabarak University the first in sub-Saharan Africa to offer oncology pharmacy," Prof Asirwa said.
He added that the partnership is also part of the institute's efforts at improving quality training and research activities to build the capacity of oncologists and improve the treatment and care of cancer patients.
The partnership will include involvement of the Clinical Oncology Curriculum Committee in the development of specialised curriculum for the courses.
"We are looking at creating an environment where we will not feel inferior and where patient-centered support and treatment will be key.
"In some developed countries, the rate of recovery is higher because of the kind of specialised treatment that is accessible," Prof Asirwa said.