Group collects waste in Nairobi estates, streets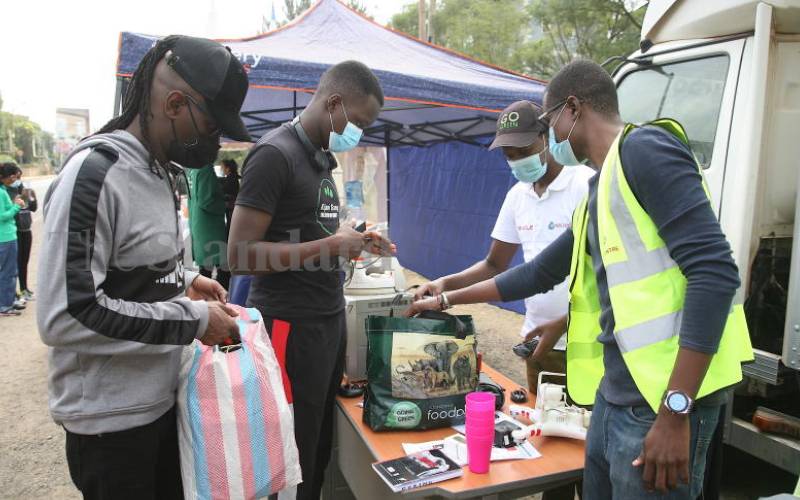 A group of environmental conservationists has embarked on a waste collection drive in Nairobi's Kilimani.
The exercise, conducted by Kilimani Project Foundation on Saturday, saw residents deliver solid waste to various recycling companies that collect plastic bottles, papers, electronic and textile waste.
Emily Mutua said the Community Based Organisation brought together partners in solid waste management in the collection drive.
"The Kilicycle drive's purpose is to get the community to dispose of their recyclable waste responsibility. We appreciate that there is waste that doesn't have to get to the dumpsites because it can be reused," said Mutua, adding that the exercise was conducted monthly.
Companies that participated in the exercise included Takataka Solutions, which recycles solid and biodegradable waste to produce compost and other plastic flexes; Trash Thread Textile (T3), Kijani Gang, and WEEE Centre.
"We intend to bring more partners in the recycling business to ensure waste that ends up in the dumpsites is biodegradable," said Ms Mutua.
Gedion Ripisian of T3 said reusing plastic materials protects the environment from the plastic pollution menace.
"We are working with communities to establish segregated collection points in residential areas where people can dump waste responsibly," said Risipian.
Jennifer Wang, chief sales officer at TakaTaka Solutions, said the company recycled up to 95 per cent of solid waste collected from residential areas, commercial buildings, and estates.
However, the players in solid waste management had concerns over inadequate waste separation at source. This means nonreusable and recyclable waste end up in dumpsites, making it difficult to sort them for recycling.
The exercise attracted at least 20 teenagers under Kijani Gang. "We use areas of interest such as football, computer, animation and videography to identify environmental issues and create awareness.
Those interested in computers focus on e-waste collection, others in soccer plant trees equivalent to goals they score in particular games," said Imani Ogana.