Uhuru addresses world forum, commits to mitigate climate change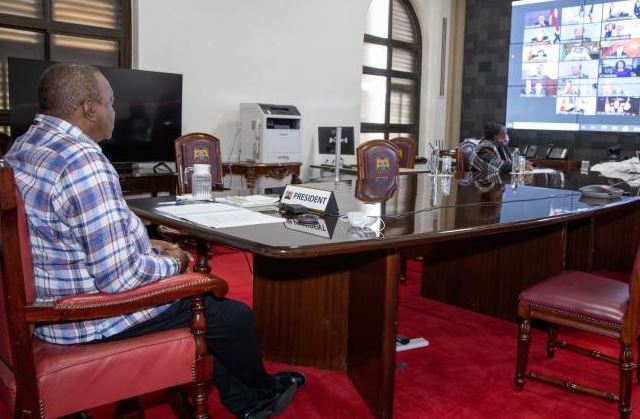 The first day of the US President Joe Biden Climate Summit saw various countries make commitments to combat climate change.
Kenya declared its commitment to mitigate climate change as it urged investors to venture in geothermal energy.
President Uhuru Kenyatta said the East African nation plans to make its electricity grid 100 per cent renewable energy, up from the current 90 per cent.
"Our geothermal potential is great and the amount currently tapped is less than 10 per cent. This presents huge investments opportunities across the technology value chain as well as huge opportunities for employment," President Kenyatta said during a virtual climate change address.
Uhuru said developed nations should support developing countries financially to enable them embrace climate change adaptation measures. The President added that Kenya was the first country to pioneer geothermal energy and is also home to one of the largest wind power project in the world.
He said through Mkopa financing, many poor Kenyans are able to meet their energy needs and switch from dependency on kerosene for cooking and lighting. He said the country's efforts to achieve 100 per cent clean energy for cooking was progressing well.
Uhuru added that Kenya is committed to reduce greenhouse gas emissions by 32 per cent by 2030 and targets 100 per cent clean cooking by 2028, two years ahead of the 2030 UN target.
Currently, 80 per cent of households in Kenya depend on biomass for cooking.
Congratulating US President Joe Biden for showing leadership on environment and climate change issues and for recognising Kenya's role, Uhuru said climate change, just like Covid-19 was not a future problem but a present one.
"It is a problem we must address today as consequences of inaction is dire with devastating impact on economy, livelihoods and ecosystem," Uhuru said.
US President Joe Biden while opening the crucial Summit said: "the steps our countries take between now and Glasgow will set the world up for success… if we do, we'll breathe easier, literally and figuratively."
The US committed to a politically feasible NDC to cut emissions by up to 52 per cent in 2030 (on 2005 levels), which reduces the 2030 global emissions gap by 5 to 10 per cent. The US will also double climate finance contributions by 2024.
Observers say focus will now turn to how else the Biden administration will meet its present and historical responsibility on fossil fuel support and delivering on this target.
Although China did not offer any new formal targets, Prime Minister Xi Jinping said they would cut coal consumption through the 2026-2030 15th, a 5-year-plan, which understandable is new.
"We will strictly control coal-fired power generation projects and strictly limit increase in coal consumption and phase it down in the 15th five-year plan period," Xi said.
India gave no new targets while Japan committed to a new 46-50 per cent on 2013 levels by 2030.
Lawyer's record queried
Despite being the youngest candidate at 53 years, she told the commission she had what it takes to be the CJ