Hospitality industry hard hit by the Covid-19 protocols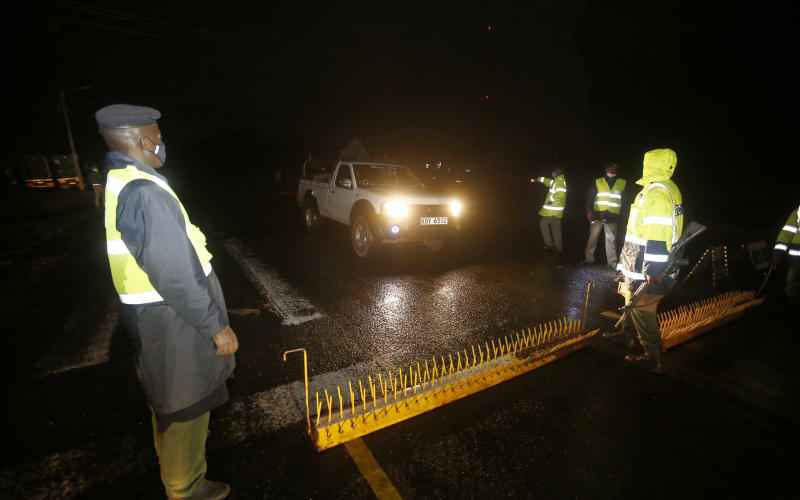 It was swift and unexpected, but measures put in place to check the rising cases of Covid-19 in five counties have come with devastating effects.
The real impact of the government's decision has been stinging, with statistics indicating that over 100,000 jobs have been lost in Nairobi, Machakos, Kiambu, Kajiado and Nakuru counties in the last month after the lockdown.
Mostly hit by the drastic move to extend curfew hours and close all entertainment joints as well as limit restaurants to takeaway service only, have been workers in the Hospitality Industry and the Transport sector.
Immediately the government announced the cessation of movement in the 'disease zone' counties, closure of entertainment joints and scaling down of operations in restaurants, over 20,000 enterprises issued abrupt redundancy notices to employees.
Assuming that each of the over 20,000 businesses employed a minimum of four people, it could be more, a conservative estimate indicates that over 100,000 people have lost jobs directly.
This does not include others who rely on the businesses indirectly.
George Kamau was at one moment looking forward to welcoming patrons into his bar in Kiambu on March 26 when the order came that all bars and restaurants in the county should be closed.
As he shut his bar and restaurant, so did he close the door on the livelihoods of some 20 workers he had employed. His situation reflects the plight of hundreds of business people and workers whose source of income have dissipated.
After months of closure due to the coronavirus pandemic last year, Kamau was excited when President Uhuru Kenyatta finally gave the go-ahead for reopening bars and restaurants in September 2020, six months after they were ordered shut.
Now, after a second closure order, Kamau says he was forced to lay off 10 workers in the bar and another 10 in the restaurant.
"I cannot pay rent right now. I am staring at huge losses as some of the drinks are expiring. I do not know what to do. Things are going from bad to worse," Kamau laments.
Before the lockdown, Thomas Amakobe, 25, had been employed as a chef in a hotel in Ngong. He says he was earning between Sh25,000 and Sh30,000 per month, depending on business performance.
"I have now been reduced to carrying luggage for people," says Amakobe. "It is like my experience of two years in the industry is useless."
When asked if he has any hope despite the lockdown and closure of hotels and entertainment joints, he glumly says: "We are really waiting for a miracle. We are in a dilemma. What will happen next, I do not know."
The push for a definite time-frame for reopening is driven by Pubs, Entertainment and Restaurants Association Director Michael Muthami.
He says annual statutory fees for 2020 and 2021 have been paid yet they are not making any money.
"We request that the government gives us a waiver or significantly reduce these statutory payments in accordance with our new working conditions," says Muthami.
A report titled, The short-term impact of the Covid-19: Shock on Employment in Formal Firms in Kenya, published on March 3, recognises hospitality as the most-hit sector.
"Employment in the manufacturing sector has taken the biggest hit in absolute numbers, with over 31,000 jobs lost (13 per cent of total employment). However, with a 33 per cent drop in employment, the hospitality and tourism sector has witnessed the most pronounced impact in relative terms," reads the report prepared by Private Enterprise Development in Low-Income Countries, a research initiative of the Centre for Economic Policy and the Foreign, Commonwealth and Development Office.
Kamau's bar is one of about 6,000 in Kiambu County affected directly by an order to close all bars announced last month.
In Kajiado, which is considered a beer belt and getaway destination for fun-loving city residents, more than 18,700 bar workers have lost their jobs following the government's lockdown.
According to County Liquor Licensing Board Chairman Jonah Marapash, the county has more than 3,774 licensed bars.
Fredrick Chege, who is the patron of the Bar Owners Association, said the sector has been adversely affected and urged the government to reconsider its stand.
Over in Machakos, it is estimated that about 35,000 people have lost jobs in the last one month.
According to the Chairman of the Kenya National Chamber of Commerce and Industry, Machakos chapter, Mutavi Kithu, there are about 8,000 registered bars and restaurants in the county.
Kithu says the closure of bars and eateries had dealt a big blow to the sector. According to his calculations, job losses have not only affected employees but also complicated the businesses of their suppliers.
"To save the local economy and avert the closure of businesses, I urge the government to rethink the decision and reconsider reopening the said businesses with stricter conditions," he says.
Kiambu Bar Owners Association Chairman Richard Kagiri says the economic effect of the lockdown will drive the final nail on the coffin of the businesses.
"There is a serious war right now between bar owners and landlords who do not understand there is no business and want to be paid their rent," Kagiri says.
Statistics from Liquor Licensing Board indicate that there are 12,500 bars in Nairobi, which now remain closed indefinitely following the government decree.
In the city's Central Business District (CBD), there are 736 licensed bars. A survey carried out in 2016 found that on average, 50 bars are opened in Nairobi every three months.
The closure of businesses in the five counties has had a ripple effect on real estate, as the workers rendered jobless migrate to rural areas or cheaper houses.
A cross-section of landlords say this has translated to empty houses and business premises.
Some have been forced to reduce their rent by 50 per cent to retain tenants.
It is the same situation in Nakuru where the closure of 2,500 bars has seen hundreds of people lose their source of income.
County Bar, Hotels and Liquor Traders Association Secretary-General Boniface Gachoka says about 15,000 workers who had been employed are now jobless.
Reports by Graham Kajilwa, Erastus Mulwa, Peterson Githaiga, George Njunge, Julius Chepkwony and Josphat Thiong'o.