The President diary keepers' delicate job at seat of power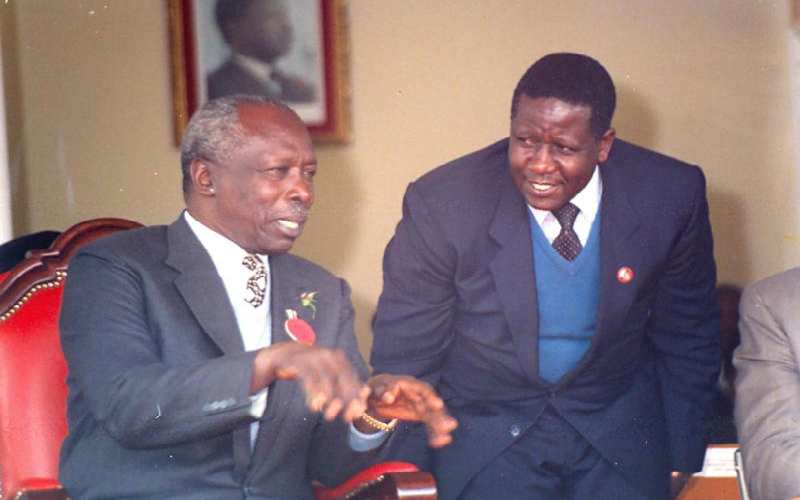 The State House Comptroller has since Kenya's independence been a powerful position, as the holder keeps the president's diary.
The office is not only sensitive, but demanding because it comes with enormous pressure on the occupant who has to carefully juggle the challenging political tasks at hand.
Occupants of the office are always under pressure, mainly from political players who demand unfettered access to the president, thus sometimes putting them in an awkward position.
The first State House Comptroller appointed by founding President Jomo Kenyatta was the late Eliud Mathu who, according to available records, was the first black Kenyan to get an undergraduate degree.
He was among the first Kenyans to be educated by the British colonial government and went to Fort Hare University, South Africa in 1934.
It is the same university that freedom fighter and anti-apartheid crusader, Nelson Mandela, who later became president of South Africa, and fellow comrade Robert Mugabe, who fought for Zimbabwe's independence and later also became the Head of State, attended.
Mathu was the first Kenyan to be nominated to the Legislative Council, or Parliament, at the time in 1944 but did not plunge into politics when Kenya attained independence.
Experience in public affairs
Given his experience in public affairs and his political and academic profile, Kenyatta appointed him as State House Comptroller.
He forged a close working relationship with the President and was part of the inner-circle, calling the shots and pulling strings in the 1960s and 1970s.
The President never reprimanded him when he broke protocol, recounted then Head of Civil Service Duncan Ndegwa in his book titled: Waking in Kenyatta's struggles: My story.
Ndegwa wrote that the former State House Comptroller once disappeared while the President was on a trip to Mombasa, and was later found drinking alcohol in Ganjoni after a two-day search.
Interestingly, Mathu was allowed to take a rest before resuming duty.
He served as the State House Comptroller until 1977, when he was appointed chairman of Kenya Airways after the national carrier was launched upon dissolution of the former East African Community.
He was succeeded by Alexander Gitau, who served for one and-a-half years before the President died in August 1978.
Those who worked with Gitau described him as a happy man whose weaknesses in social life were similar to those exhibited by Mathu.
The former high school teacher was the son of renowned educationist Musa Gitau, a famous man in Kikuyu area at the time and who Musa Gitau Road and Musa Gitau Primary School are named after.
Shown the door
Gitau was also the brother of Edith Matiba, the widow of the late Cabinet minister Stanley Njindo Matiba, and Joan Waithaka, a long serving principal of Alliance Girls High School.
Alexander Gitau transitioned from President Kenyatta's regime to President Moi as State House Comptroller until 1981 when he was replaced by Andrew Limo arap Ng'eny from Nandi in the then Rift Valley Province.
Limo was introduced to the president by former Cabinet minister Nicholas Biwott, whom they worked together in the Ministry of Agriculture.
Unfortunately, Limo died in a road accident near Stem Hotel on the Nakuru-Nairobi highway in 1983, while travelling to Kabarak after attending Moi's meeting in Thika.
That is when Abraham Kiptanui, a career prisons officer, who was the director of Kenya Aerodromes, was picked to succeed Limo.
Kiptanui, who died a fortnight ago, took charge of State House when the president had become increasingly authoritative because of an attempted coup against his government a few years earlier, and was still in the process of restructuring his government.
He was in charge of the president's diary and would vet and admit people who wanted to see him at State House and at his home in Kabarak.
Those he worked with at State House say Kiptanui later fell ill after he got a stroke and was hospitalised in the United Kingdom.
The sickness would force him to retire on medical grounds in 1994 when he was still serving as the State House Comptroller at the age of 55.
He was succeeded by Frankline Bett who was at the time was the Deputy Comptroller of State House in-charge of speech writing.
Bett held the position for two years before he was appointed Permanent Secretary in the Ministry of Natural Resources and later became the High Commissioner to Australia.
He was succeeded by Wilson Chepkwony, who was the Nyanza Provincial Commissioner.
Chepkwony died in a road accident at the notorious Salgaa black spot along the Nakuru-Eldoret highway.
That opened the door for the last State House Comptroller in Moi's government, John Lokorio, a journalist who had worked for the Kenya News Agency for many years before he joined the Presidential Press Service.
He also worked as the Deputy Head of the Presidential Press Service for many years under Lee Njiru, who held the position since 1977 under President Kenyatta and President Moi's regimes.
President Kibaki
Kibaki's first State House Comptroller was his longtime friend John Matere Keriri, having been members of the Democratic Party (DP) from the early 1990s.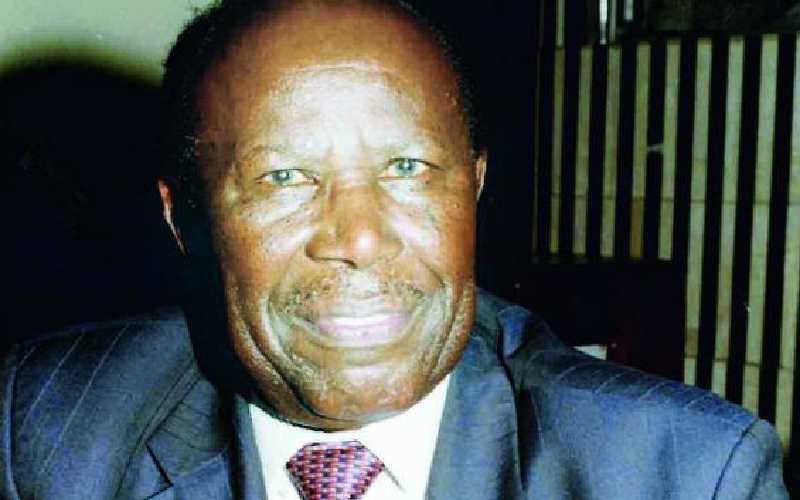 Keriri served as the MP for Kerugoya/Kutus, later renamed Kirinyaga Central which he won on a Democratic Party ticket in 1997 before he was defeated by Daniel Karaba in 2002.
President Kibaki appointed him Comptroller of State House, a position he held for one and-a-half years before he was shown the door in 2003 after a spat with First Lady Lucy Kibaki.
He was replaced by Hyslop Ipu in 2004, who would later quit under unclear circumstances with reports emerging that he had opted to go on leave after getting frustrated while performing his duties.
His departure coincided with the 2008 Christmas/New Year presidential holiday in Mombasa when Ipu requested the president to allow him to take a rest.
Although he was supposed to be in charge of the president's diary, he was made redundant, as a member of the first family took over the responsibility, forcing him to quit in 2008.
In November 2009, President Kibaki named Dr Nelson Githinji from the private sector as the new State House Comptroller, a job that had seen his two predecessors leave under a cloud of controversy. The influential office had also been split into two, thus diminishing the powers.
As Comptroller, Githinji was to be in-charge of finance and administration at State House, while the position of Private Secretary was given to former Vice Chancellor at Jomo Kenyatta University of Agriculture and Technology Nick Wanjohi.
That meant that the work of handling the president's diary and official programme was to be done by Wanjohi.
President Uhuru Kenyatta
When President Uhuru Kenyatta took over, he appointed Lawrence Lenayapa from the Rendille community as State House Comptroller.
The community had for long since the days of President Moi been strong supporters of the Kanu party which Uhuru had also served as party chairman before moving to the The National Alliance Party (TNA).
Lenayapa was rewarded because Rendille leaders like former Laisamis MP Titus Ngoyoni and his successor Joseph Lekuton had also strongly supported Kanu, before the latter worked with Kibaki's Party of National Unity (PNU) and later Uhuru's Jubilee.
Lenayapa, however, did not enjoy a smooth sailing during Uhuru's first term as he locked horns with politicians and the president's political advisors at State House. He was accused of blocking delegations from seeing President Kenyatta.
In 2016, it was alleged that he blocked a delegation of the cooperative movement from entering State House.
The group had been mobilised by the late Joseph Nyagah, who had served as the Minister for Cooperatives under President Moi and whose father was Mzee Kenyatta's key ally.
Denied access
Nyagah was serving as the president's advisor at State House and had brought together the group from across the country to strategise on how to mobilise support for the president's re-election.
They were denied access to State House, an incident Nyagah blamed on Lenayapa and resigned from his position in protest.
Earlier in 2016, Nancy Gitau, another influential political schemer who still wields influence in the corridors of power today, was said to have also quit her job in a huff.
She had come under attack from a section of Jubilee leaders allied to Deputy President William Ruto's URP side in Jubilee for allegedly organising a delegation of Maasai leaders led by the late William ole Ntimama to meet the president and defect to President Uhuru Kenyatta's The National Alliance party.
In January 2018 after the President's re-election, Lenayapa was replaced as Comptroller of State House and appointed Kenya's Ambassador to The Netherlands.
He was replaced by Kinuthia Mbugua, who now controls who sees the president, and his diary.
The former Nakuru governor served as the Administration Police commandant during the controversial 2007 elections, where officers under his command came under fire over rigging claims.
Today, the office of State House Comptroller still wields immense powers with political weight, because holders can either expedite or frustrate political ambitions.