Marriage not passport to property rights, Koome tells CJ interview panel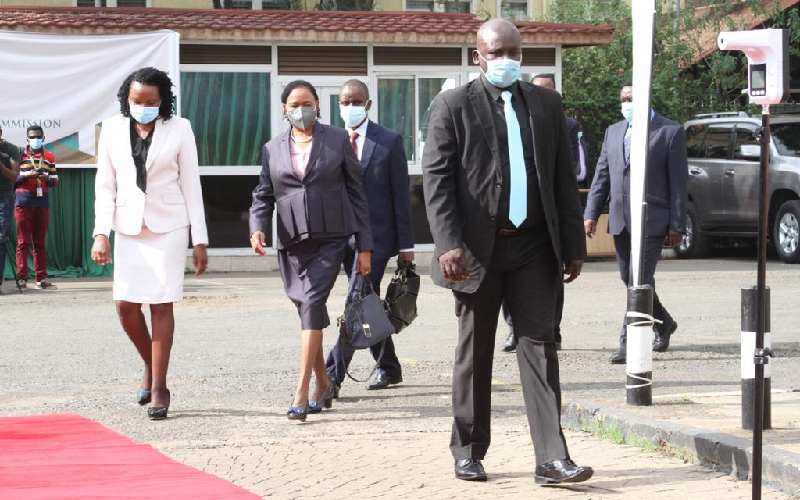 Court of Appeal judge Martha Koome says marriage does not necessarily guarantee one ownership rights to property worked for by a spouse.
Koome who is seeking the position of Chief Justice said many spouses have taken advantage of marriage to demand ownership and equality of rights to property.
She was appearing before the Judicial Service Commission vetting panel at the Supreme Court buildings on Wednesday.
"If I got married today and I have some property, my spouse is not entitled to it. And if I got married and my husband has some property, I am not entitled to it because that is his property," she said.
Koome said in the instance where the spouses have lived together for some time and together acquired property, then in this case they can demand equality.
"When you stay together and develop this property then either party in the marriage acquires occupational rights," she said.
Koome was responding to questions by Justice Mohamed Warsame who sought to know her stand on the equality rights to property.
Koome dismissed claims that female judges face more challenges compared to their male counterparts at the Judiciary.
She said challenges within the judiciary are gender-neutral.
She said as a result, the post of the Chief Justice should not be reduced to a male vs female affair.
"As women, we face the same challenges our male counterparts face. Leadership does not require a man or a woman, it should be based on skills," she said.
Koome said it would be historical for her to be appointed a woman CJ in Kenyan history.
"Being a CJ is like a driver. Whoever sits on the driver's seat, as long as they have the license, the car will move. To me leadership and interpersonal skill is what I need for the CJ job," she said.
She said she will bring her 33-year experience in matters of law to transform the Judiciary for efficient service delivery.
This is the second time Koome is seeking to be the president of the Supreme Court.
She said though she does not understand what problems ail the Supreme Court, she would need more time to streamline service delivery if she got the CJ's job.
"Thirty days would not be sufficient to streamline things but my urgent focus would be to clear the backlog of cases that cut across the board," she said.