Hero or villain: Sang's 15 years at helm of dock workers union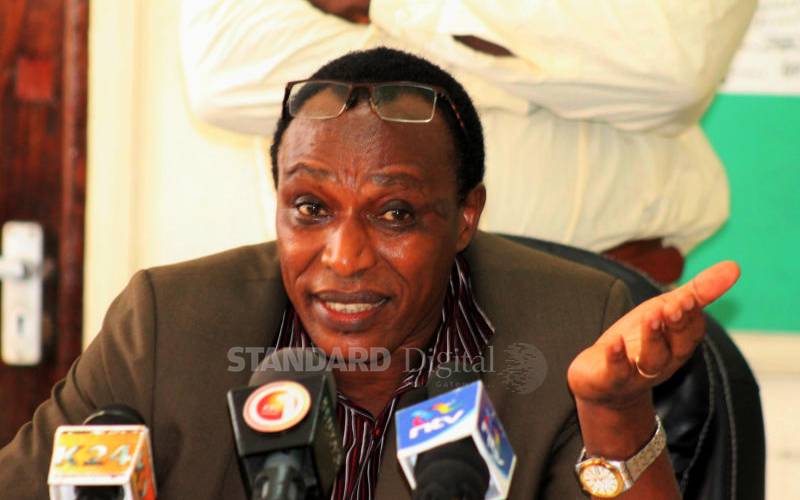 Simon Kiprono Sang has been a towering figure at the Port of Mombasa for the last 37 years, rising through the ranks to occupy the powerful position of general secretary at the Dock Workers Union (DWU).
In his 22 years as an employee at the port and 15 at the helm of the port workers' union, Sang has seen seven Kenya Ports Authority (KPA) managing directors come and go.
The vocal unionist has fought many battles at the port, won some, and lost others.
His supporters say he is a fierce defender of the workers' rights. However, critics describe him as a lone ranger with an unmatched ego, who can go to any extent to achieve selfish interests.
In July 2015, he led the union into a strike over an increment of National Housing Insurance Fund (NHIF) rates, which saw 28 of his union members sacked.
Sang admits he misled the union into joining in the strike planned by Trade Union's Congress of Kenya (TUC-K) to protest increment of the rates, more so since the row was between NHIF and TUC-K, and did not affect the KPA workers.
"I have encountered several challenges, including the day I led union members into a strike that saw KPA sack 28 of them," said Sang in an interview.
He added: "I am not a lone ranger as some people are claiming. Their problem is that they want me to share the executive powers with them. This cannot happen unless we change the constitution of the union and the Labour Relations Act 10."
Those dismissed during the 2015 incident included vice chairman Michael Kituku, deputy general secretary Abubakar Mohamed Abdillahi, assistant treasurer Judith Abuka and chief shop steward Renson Juma Thoya.
Sang had moved the union to TUC-K from the Central Organisation of Trade Unions (Cotu) after months of differences with the latter's secretary general Francis Atwoli.
TUC-K was associated with Kenya National Union of Teachers (Knut) secretary general Wilson Sossion, who had called for a nationwide strike to fight NHIF rate increase only to deal Sang's union a devastating blow.
Sang beat a retreat after the blunder and rejoined Cotu. However, his team was never reinstated.
DWU has not called for a strike at the port since the disastrous protest.
With modest education, Sang has had his fair share of success since he supplanted former vocal Changamwe MP, the late Joseph Kennedy Kiliku, from the leadership of the union in 2006.
He secured employment at KPA in July 1983 in the junior cadre and rose to the level of senior superintendent over a span of 22 years.
Sang, who is married with three daughters and two sons, did his "O' level in 1977, his basic accounts in 1978 and advanced accounts in 1987.
"I belong to the class of the late Bob Collymore (former Safaricom chief executive officer) who did not make it to university, but operated better and more professionally than university graduates," Sang said in an interview.
His last working station was at the port's container terminal before he resigned to venture in trade unionism in 2005. He won the general secretary's position the following year.
Sang said he was motivated to become a workers' representative when the then managing director, Brown Ondego, and terminal manager Patrick Musoke allegedly frustrated his fight for the rights of management employees who were reportedly being forced to work during weekends but were not adequately compensated.
"I was one of them. I used to put in 13 hours per day, seven days a week with a paltry compensation of Sh4,750 per month in allowances. I found it unfair hence my resolve to sue the management of KPA for bad labour practice. When they frustrated my efforts, I realised there was need for effective representation of workers," said Sang, who leads the 4,400-member union.
Sang said there were many other workers facing similar frustrations but were suffering in silence.
"Unfortunately, the two managers who frustrated my efforts are the only ones I respected most at KPA because they are the ones who turned the Port of Mombasa into what it is today," said Sang, the longest serving general secretary of the union.
Former Matuga MP Juma Boy, who also served as Cotu secretary general, is the second longest serving DWU boss, having held the position for 13 years before his death in 1983.
Boy is known for his efforts that saw terms and conditions of service for 3,225 casuals labourers, commonly known at the port as white cards, changed to permanent and pensionable.
From 2006, the salary for the lowest paid worker rose from Sh11,000 per month to Sh37,370 at the moment.
House allowance was also increased from Sh5,000 in 2006 to Sh14,450.
"No other state corporation has achieved this level but this is also because we make our own money," said Sang
Sang said the other major challenge he faced was when DWU national chairman Mohamed Sheria allegedly decided to work with the government and KPA to frustrate the union, pointing to the alleged attempt to privatise container terminal two.
"Today, the union is not as strong because of this situation. But upon their (rivals) exit in 2021 (referring to the forthcoming union elections), the union will be resuscitated. We will ensure we are more effective in our mandate to fight for the rights of workers than we have done before," Sang said.
Sheria, who is defending his seat in the May polls, has however dismissed Sang's claims that government plans to privatise the second container terminal (CT2) will lead to a possible loss of 3,500 jobs at KPA. He said Sang has perfected the art of making wild claims around election time to paint rivals in bad light.
"Job losses have not happened for years now. It is his strategy to whip emotions and win over port workers. We have decided to ignore him," Sheria said.
Other than Sheria, others fighting against Sang are vice chairman Gunda Kaneno, deputy general secretary Anthony Odero, treasurer Joseph Makero and gender chairperson Zuhura Idd.
Sheria has been at loggerheads with Sang since they took office. At some point, they threatened each other with the sack, using the union's membership, but this failed after two acrimonious meetings at KPA Mbaraki Club and another at Bandari College.
Sang says he will groom a successor once he wins a fourth term in office.
"I will ensure we work on a successor to take up the position of deputy general secretary and accord him or her five years full time training. This will ensure smooth transition when I leave office in 2026," he said.