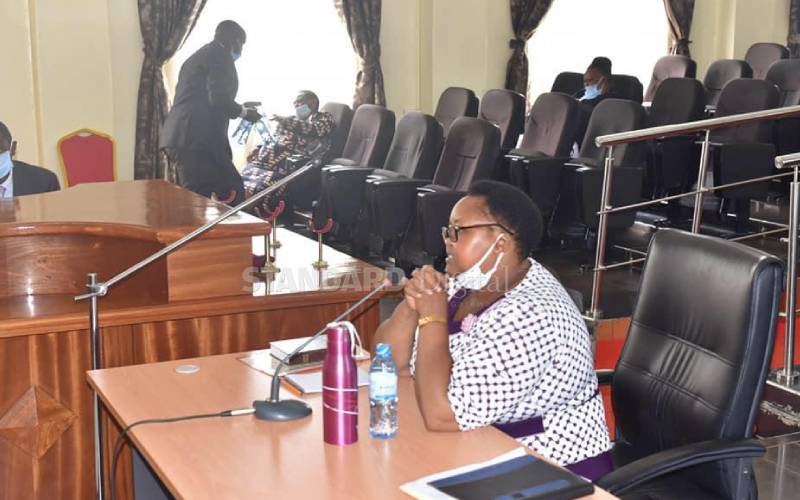 Kericho Governor Paul Chepkwony has nominated Education executive Lily Chepng'etich (pictured) as deputy governor to replace Susan Kikwai.
The seat fell vacant following the death of Kikwai on March 20 at Siloam Hospital, Kericho, after a short illness.
Kikwai died on Saturday at Siloam Hospital, where she was being treated for coronavirus. Family members, friends, colleagues, and local leaders are making burial plans.
In a statement to county assembly speaker Dominic Rono, Chepkwomy said he took into account the fact that Kikwai hailed from the Kipkelion East subcounty. He said the nomination will address continuity in the distribution of elective seats as well as gender balance.
He asked the assembly to expedite the vetting and approval process.
Four days before she succumbed to Covid-19-related complications, Kikwai instructed senior staff at the Kericho County on what needed to be put in place for the local government to run smoothly.
And even in her hospital bed, Kikwai, who served as deputy governor, followed up with the officers on whether they had executed the assignments given to them.
County Secretary Joel Bett recalled his last moments with Kikwai.
"Even as she lay in her hospital bed she could summon senior county officers to confirm whether what had been programmed was going on as scheduled. She would even read some documents and consult me on areas she felt required changes before she could approve," said Bett.
The county secretary eulogised Kikwai as a leader who had passion for her work and cared about operations of the county government even when she was unwell.
"She ran the county government like a parastatal, and the most important thing for her was that the county government delivered on the development agenda," he said.
"She always had a month's schedule, which she stuck to. Even if something was urgent, she would deal with what on her schedule first," he said.